Image description: A view into the Alsatian town of Colmar old town. A cluster of quaint timber-framed wood houses and shops in a blend of Germanic and French architecture.
Winter is right around the corner and I'm sure many of us are feeling the itch to reach for those big, hearty reds- or maybe digging in our heels and instead seeking out white wines with a little more oomph.
If you're in the latter camp, then we need to talk about your new favourite region: Alsace.
Located in Northeastern France, separated from Germany by the Rhine River, Alsace is a unique blend of French and German culture. This clearly demonstrated in their wine and also in their traditional cuisine, which is full of rich, fatty pork dishes, sauerkraut, and streusel. The wines are instantly recognizable in their distinctive, tall bottles, also know as as "flute d'Alsace", and Alsace really does do it all. While 90% of the region's production is exclusively white wine, they also produce excellent Pinot Noir, sparkling wine (Cremant d'Alsace), dessert wines ("Vendange Tardives" & botrytis-influenced wines), and tons of beer! Today, though, I want to get into what they do best: a wide variety of white wines that will blow your mind.
Riesling
There's little in the way of syrupy, sickly-sweet Riesling here! The typical Alsatian Rieslings veer more lean, mineral-driven, and crisp although they are no less age worthy than their sweeter German counterparts. Check out the Rolly Gassmann Riesling that balances its hint of sweetness and ripe, generous fruit with a spark of acidity and minerality
Gewurztraminer
Fun to say and even more fun to drink, Gewurztraminer produces some of the most aromatic wines in the world! The Albert Boxler Reserve Gewurztraminer is a gorgeous example of this underrated grape's typicity: jumping out of the glass with rose, lychee, honey, and clove, its slightly sweet palate ends with a lengthy finish that's surprisingly dry, avoiding any cloying quality and inviting you back for more.
Early on in my wine journey, the first time I was offered an Alsatian Gewurztraminer, I noticed how I could already smell it before even raising the glass for a tentative sniff. Not to be dramatic, but it was a revelation. I had no idea wine could offer such perfumed, intense aromas. It still remains one of my favourite (underrated!) styles of wine and I hope you have the opportunity to experience it for yourself if you haven't already.
Pinot Gris
This is the far, exotic cousin of Italian Pinot Grigio. Expect Alsatian Pinot Gris to offer a rich, opulent style, especially for those with some age. You'll find notes of ripe, red apple, stone fruit, jasmine tea, and smoke creeping in.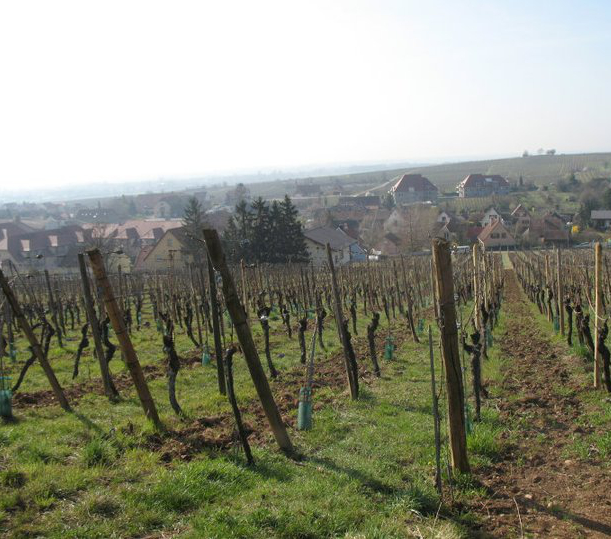 Image description: Alsatian vineyard in Spring. Rows of vines angle downhill towards a quaint town. The grass is green and the vines are early in their annual growing cycle. This photo was taken on a Bishop's Cellar buying trip to Alsace in 2011.
What makes Alsace unique
You will notice that Alsatian wine tends to command a higher price, and there are a few reasons for this. One is that most of the vineyards in Alsace are organic and biodynamic (many since the 1970s!) and require harvesting by hand.
Another is that some vines, especially as they age, produce lower and lower yields. This drives up the price but also, luckily, produces a more deliciously complex wine capable of ageing for many years if you so choose.
Alsace is also one of the few places in the world where the wine must be made from 100% of the grape on the label. Elsewhere, a wine can have other varietals blended in and be labelled similarly- actually be as low as 75% in some countries!
How to enjoy Alsatian wines
Now that you know what to expect from the wine, let's get back to food. White wines from Alsace are some of my go-to, must-haves for the Christmas season when I want a show stopping wine on the table that is incredibly versatile and food-friendly.
Chinese (particularly Szechuan or Hunan), Thai, and Indian dishes that bring a warming, spicy heat will pair beautifully with aromatic, off-dry wines and Alsatian Riesling and Gewurztraminer are no exception. Pork, chicken, fish, shellfish, and hard, intense cheeses have equal opportunity to shine with these wines as well.
Cooking up an orange-glazed ham, buttery lobster, or roasted poultry? Alsace has your back as a certainly gorgeous pairing.
Looking to explore Alsatian wines for yourself? Shop our entire selection here.