1500ml Ridge Lytton Springs (1500ml)
Food Pairing

BBQPorkRed Meat

Sub-Region

Dry Creek Valley
The history of Ridge Vineyards begins in 1885, when Osea Perrone, a doctor who became a prominent member of San Francisco's Italian community, bought 180 acres near the top of Monte Bello Ridge. He terraced the slopes and planted vineyards; using native limestone, he constructed the Monte Bello Winery, producing the first vintage under that name in 1892. This unique cellar, built into the mountain side on three levels, is Ridge's production facility. At 2600′, it is surrounded by the "upper vineyard", now referred to as the Perrone Ranch. Lytton Springs, in Sonoma County, became part of the Ridge estate in 1991.
Tasting Notes
This is a blend of 69% Zinfandel, 23% Petite Sirah, 6% Carignane, 2% Mataro (Mourvedre) from the Lytton Springs vineyard in Dry Creek Valley (Sonoma County). The grapes are hand harvested and ferment via natural yeast, slow and steady. The wine ages for 14 months in American oak which adds structure and spice. Complex aromas of raspberry, black pepper and vanilla. Full bodied with firm acidity, flavour complexity and a long finish.
Method
Though born in the early sixties to the post-Prohibition world of modern California winemaking, Ridge relies on nature and tradition rather than technology. Ridge takes a pre-industrial approach to winemaking; beginning with high quality fruit thus needing minimal winemaking intervention.  The goal is to let the fruit's distinctive character and richness express itself.  Native yeasts from the vineyard ferment the grapes, no commercial enzymes or nutrients are used to extract colour, flavour and tannins from the grapes and winemaking decisions are based on tasting the wines throughout the process.  Finally, Ridge voluntarily provides a list of actions and ingredients on all of their wine labels to show how little intervention was used during the winemaking process to produce a terroir driven organic wine.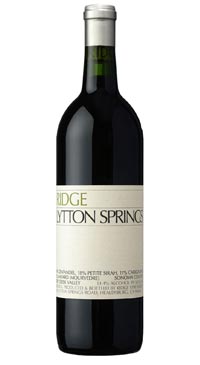 You may also like...