2 Crows Birds of a Feather – Bruin (375ml)
Beer Style

Mixed Fermentation BeerOud Bruin
2 Crows Brewing Co. is the brainchild of husband and wife duo Mark and Kelly Huizink and brewer Jeremy Taylor. They brew modern beers with care and focus on quality. Their aim is to get people thinking about craftsmanship, where their beer is coming from, and the various characteristics that make beer great.
Tasting Notes
This is a very special series of beers that have taken a long time to come to fruition. A common thread runs through these beers, as they are all beautifully vinous, smooth, and complex.
Smooth, slightly roasty, with notes of coconut, a touch of balsamic, cherries, and blackcurrant.
6.3% abv
Method
The base sour brown beer was fermented initially in the 2 barrels used for the Megadregs project. If you missed out on the story behind that project, it involved 2 Crows hosting 20 or so different breweries from across Canada — they all brewed a beer together to 2 barrels (well, Miles brewed it and the rest of them drank beer), but instead of pitching a particular yeast, each brewery all poured in yeast dregs from various wild/sour beers they had each produced and let the numerous yeast and bacteria cultures play together in barrels to create one truly collaborative beer.
After about 3 months in Megadregs barrels, the beer was transferred into 2 freshly emptied port barrels, where it was allowed to condition for about 14 months before bottling and bottle-conditioning.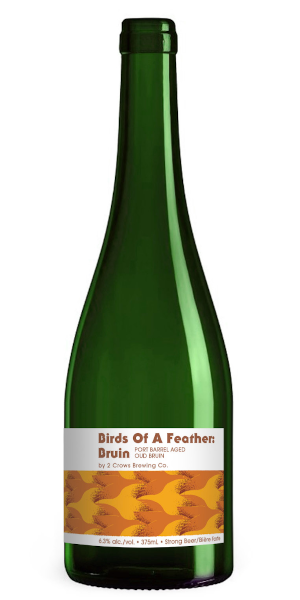 You may also like...