2 Crows Birds of a Feather – Cherry (375ml)
Beer Style

Flanders Red Learn MoreMixed Fermentation Beer
2 Crows Brewing Co. is the brainchild of husband and wife duo Mark and Kelly Huizink and brewer Jeremy Taylor. They brew modern beers with care and focus on quality. Their aim is to get people thinking about craftsmanship, where their beer is coming from, and the various characteristics that make beer great.
Tasting Notes
This is a very special series of beers that have taken a long time to come to fruition. A common thread runs through these beers, as they are all beautifully vinous, smooth, and complex.
This beer is essentially part cherry wine and part beer, but the brewery is calling it a Flanders-style red with Nova Scotia cherries. Massive rounded cherry flavour, a touch of marzipan, smooth, tart and complex. Slightly tannic, firm minerality, and a touch of balsamic.
6.3% abv
Method
The base sour red beer was brewed in mid 2019, and fermented and conditioned in port barrels with wine yeast, brettanomyces, and pediococcus. In July of 2020, the brewers took a trip out to Stirling Fruit Farms and got 800lbs of freshly-picked cherries. They allowed the cherries to undergo carbonic maceration – a winemaking technique, wherein the fruit starts fermenting inside its own skin in a CO-rich environment. This leads to a much more rounded and fruit-forward expression of the cherries compared to other ways 2 Crows typically use fruit. After the 800lbs of cherries had sufficiently fermented, the brewers transferred about 400l of blended sour red beer onto them… which is truly an obscene fruiting rate, even by their standards. 
The beer conditioned on cherries for several months before being bottled and bottle conditioned in October.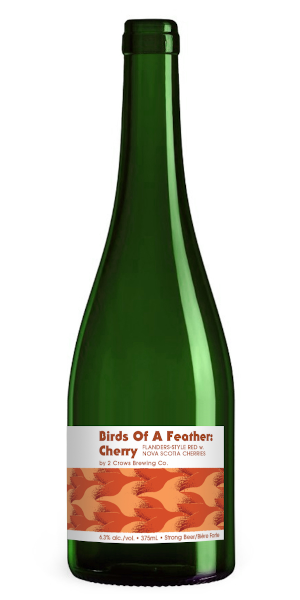 You may also like...