2 Crows Birds of a Feather – Marquette (375ml)
Beer Style

Flanders Red Learn MoreMixed Fermentation Beer
2 Crows Brewing Co. is the brainchild of husband and wife duo Mark and Kelly Huizink and brewer Jeremy Taylor. They brew modern beers with care and focus on quality. Their aim is to get people thinking about craftsmanship, where their beer is coming from, and the various characteristics that make beer great.
Tasting Notes
This is a very special series of beers that have taken a long time to come to fruition. A common thread runs through these beers, as they are all beautifully vinous, smooth, and complex.
Massive red wine notes of blackcurrant, cherry, leather, and tobacco. If you were to taste this blind, you'd be hard pressed to guess it is actually a beer.
6.3% abv
Method
The base sour red beer was brewed in mid 2019, and fermented and conditioned in port barrels with wine yeast, brettanomyces, and pediococcus. In early October of 2020, brewer Jeremy took a drive out to see the beautiful Lightfoot & Wolfville Vineyards, and collected a massive amount of freshly-pressed Marquette pomace. Marquette is a beautiful grape varietal – the cousin of Frontenac and the grandson of Pinot Noir – that L&W uses in their Fauna red.
The brewers transferred about 400l of sour red beer, which had spent 16 months in port barrel, onto approx 700kg of pomace for 1 day before bottling it and allowing it to bottle condition.
Complex, unique, rounded, and gorgeous.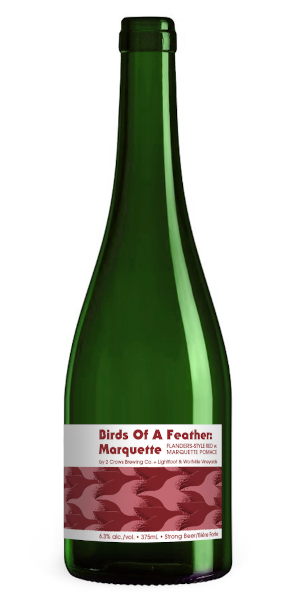 You may also like...