2 Crows – Jamboree Mango Coconut Vanilla Sour (473ml)
Tasting Notes

JuicyTartTropical
2 Crows Brewing Co. is the brainchild of husband and wife duo Mark and Kelly Huizink and brewer Jeremy Taylor. They brew modern beers with care and focus on quality. Their aim is to get people thinking about craftsmanship, where their beer is coming from and the various characteristics that make beer great.
Tasting Notes
Aromas of fresh tropical fruits, coconut, mango, and vanilla with subtle floral notes that lead into a palate with juicy creamy fruit flavours. Mouthfeel is medium bodied with moderate carbonation and mellow bitterness. The finish is smooth with lingering flavours of fruit and refreshing acidity. "Lush" would be a good word to describe this one!
Method
Most often, sourness in beer is considered a fault, unless its the case of Berliner Weiss and  Kettle soured beers. Bacteria is added intentionally to produce different forms of acid that contribute to pleasant tart flavours and mouthfeel. These beers can be blended with various fruits as well, a common practice.
This beer starts like the original Jamboree – with a base of pilsner malt and wheat, and soured for a day with lacto plantarum before the addition of ebbengarden kveik yeast. Near the end of fermentation, added a heavy-handed addition of mango purée (about 100g purée per 1L of beer) was added, plus toasted coconut and whole vanilla pods. Finally the beer was left to naturally carbonate to enhance the creamy carbonation.
Express Shipping!
For select shipping postal codes, this product may be eligible for Express Delivery! Click here to learn more.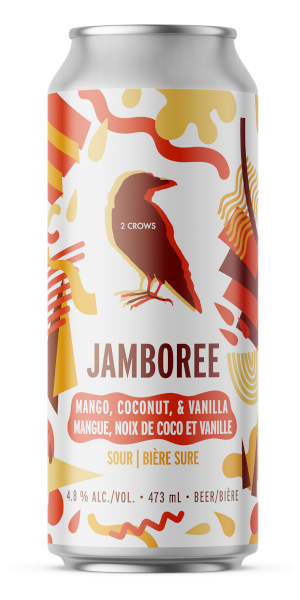 You may also like...