2 Crows Modern Interpretation IPA (473ml)
2 Crows Brewing Co. is the brainchild of husband and wife duo Mark and Kelly Huizink and brewer Jeremy Taylor. They brew modern beers with care and focus on quality. Their aim is to get people thinking about craftsmanship, where their beer is coming from and the various characteristics that make beer great.
Tasting Notes
Modern Interpretation is the latest in the super lush, super hop-forward IPA series from 2 Crows. If you grabbed some of Perfect Situation, Second Situation, Another Iteration, Cause for Celebration, and Perfect Saturation, you're gonna want to stock up on this beauty.
This beer is super tropical and dank, with a serious blast of aromas of overripe papaya, raspberries, and peach. Lush, smooth, tropical, and intense.
6.1% abv
Method
Each of these IPAs feature the same base – Golden Promise, wheat malt, dextra pils, and flaked oats – and that base is used to explore a different hop combination. With Modern Interpretation, the brewers at 2 Crows absolutely hammered the beer with Galaxy and Enigma hops, with a touch of Citra to round it out. Totalling 17g/l dry hops (that's a lot).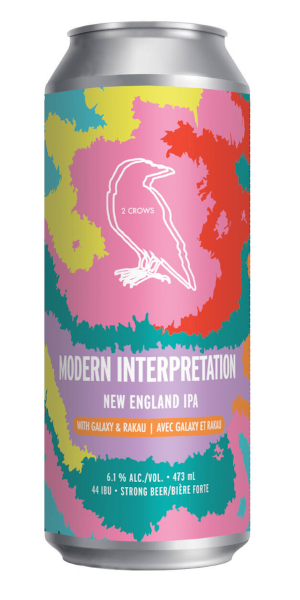 You may also like...