2 Crows – Space Words Triple IPA (473ml)
Beer Style

Triple IPAA stronger Double IPA? A new, emerging beer style? In any case, you can be sure that this beer style will contain the most hops, alcohol, and intensity in it's hoppy category. Learn More

Tasting Notes

BitterrichTropical
2 Crows Brewing Co. is the brainchild of husband and wife duo Mark and Kelly Huizink and brewer Jeremy Taylor. They brew modern beers with care and focus on quality. Their aim is to get people thinking about craftsmanship, where their beer is coming from, and the various characteristics that make beer great.
Tasting Notes
2 Crows says this is the most hoppy beer they've ever made, and we believe them! Expect very intense aromas of tropical fruits, dank herbal notes, and a plethora of citrus and stone fruits. The palate is rich with tropical hop flavours that makes the 10% abv not seem as intense as it could be.
Method
Triple IPAs  – is it just a really strong Double IPA, or a new emerging style? However you classify it you can be sure that this beer style will contain the most hops, alcohol, and intensity to be found in any sort of hoppy beer.
Brewed with a base of German Pilsner malt, flaked wheat, and Golden Promise, with sucrose added to the boil to boost the abv. Hopped judiciously in hopback with Galaxy and Comet. Space Words was fermented with a blend of juice-forward hazy yeasts, as well as a unique nectar specialist yeast Metschnikowia reukaufii. This yeast was initially harvested from flowers in the Berkeley Hills of California, and is thought to have evolved to make flowers smell better for pollinators by altering nectar compounds like glycosides. Then, it's aggressively quadruple dry hopped with Galaxy, Eclipse, and a small amount of Comet.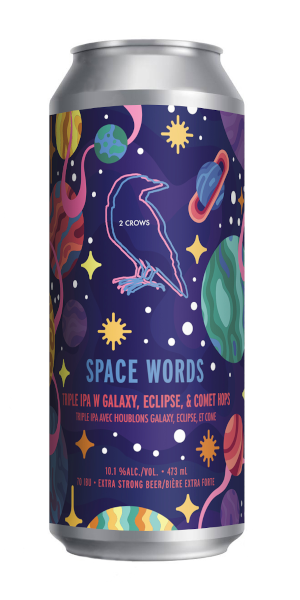 You may also like...