2 Crows Tiny Dancer Hoppy Belgian Table Beer (355ml)
2 Crows Brewing Co. is the brainchild of husband and wife duo Mark and Kelly Huizink and brewer Jeremy Taylor. They brew modern beers with care and focus on quality. Their aim is to get people thinking about craftsmanship, where their beer is coming from and the various characteristics that make beer great.
Tasting Notes
Tiny Dancer is a Belgian Table Beer, inspired by a some of the great low-abv Belgian "daily drinkers". It is bitter, fresh, and a little bit funk. It's very bright, very fun, and very refreshing!

Method
Brewed with a base of Shoreline Pale malt, raw wheat, and a bit of Island Malting Belgian biscuit malt. Hopped in the mash with Chinook, then hopped assertively in the boil with Sterling, Chinook, and Tradition. Fermented with a blend of yeasts including our house saison strain and TYB 207. After conditioning, it was can conditioned with fresh yeast and allowed to carbonate over several weeks.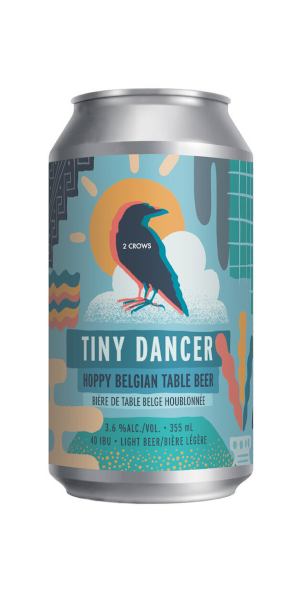 You may also like...