2 Crows x Willibald – L'Acadie Draw IPA (355ml)
2 Crows Brewing Co. is the brainchild of husband and wife duo Mark and Kelly Huizink and brewer Jeremy Taylor. They brew modern beers with care and focus on quality. Their aim is to get people thinking about craftsmanship, where their beer is coming from and the various characteristics that make beer great.
Tasting Notes
Deep white wine-like aromatics – think big gooseberry, citrus, and tropical fruit notes that mingle with the expressive hop combination to give you a very wide spectrum of fruit aromas and flavours. If you like IPAs, or aromatic white white, this is certainly worth a try!
6.3% abv
Method
IPA with L'Acadie grapes and Phantasm!
This beer gets a little nerdy when we dig into the details, but to put it simply: it's a super juicy ipa with some killer white wine aromatics. It's got grape juice, powdered grape skin (phantasm), piquette, and a crazy amount of hops.
Let's introduce a brand new & exciting product called Phantasm. Produced out of New Zealand in fairly limited quantities, it's a powdered Sauvignon Blanc-derivative that can be used both in hot side and dry hopping, and is very rich in thiols. Thiols, along with terpenes and esters, are responsible for some of the lovely fruity-aromatics you get in hop forward beers.
Wine grapes are also rich in thiols, 2 Crows hand picked 500lbs of L'Acadie grapes at PEI's Carmody Cove winery. They let these grapes undergo carbonic maceration before pressing and fermenting the must with wine yeast.
All of that good grapey stuff got blended in with a super pillowy IPA made with Ontario's Willibald brewery. Lots of mash hops, a bit of late hopping with Bru-1 and H Blanc, and intensely dry hopped with Nelson, Citra, and H Blanc + phantasm.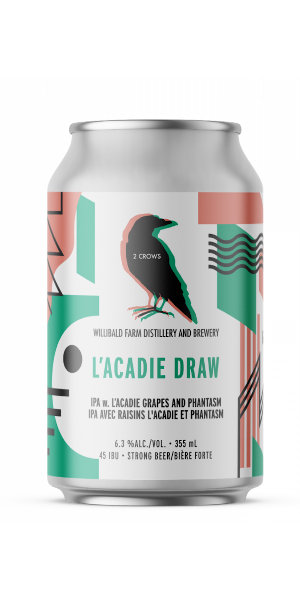 You may also like...