The wine's name comes from Seventh Son of the Seventh Son, a folklore concept of birth right gifts of second sight, healing and luck. The Seventh Son is a testament to the quality of these two varieties, Grenache and Shiraz, in McLaren Vale and how well they can compliment each other. When blended together though these opposites provide a great foil for each other, creating a complex and intriguing wine.
The Grenache is sourced from the northern part of McLaren Vale known as Blewitt Springs where the soil is deep sand. This vineyard of old gnarly bush vines is dry grown and farmed with minimal input. It is a cooler site than where the Shiraz and Sagrantino parcels are sourced: the Lopresti vineyard located at the southern end of McLaren Vale, about 4km east of the coastal town of Port Willunga. The soil here is heavy grey loam mixed with black Biscay clay and sits above ancient Gnaltinga formation bedrock. Strong vine growth in spring is tempered by summers dry winds, developing pure, bright and savoury fruit flavours that are tempered by cooling afternoon sea breezes. The ferment was kept cool throughout in an attempt to extract the tannin, colour and flavour very softly and to hold onto the pure fruit characters that are a signature for Mitolo. The wine was kept in one and two-year-old barrels, all of French origin, for 18 months before being blended. The final blend was clarified by racking only, and bottled without fining or filtration.
Tasting Notes
Bramble herbs with hints of cracked black pepper underpinned with earthy, dark fruit characters of Satsuma plum, black cherry and liquorice. Grenache plays a leading role, a dark cherry lift with a seductive, almost slippery mid palate. Shiraz provides some weight to the juicy mouth feel as well as dark fruits and earthy olive tapenade characteristics. Finally, Sagrantino, despite its low proportion, adds beautiful dry earth, cigar box-like savoury lift with those signature tannins giving a drying, snappy finish.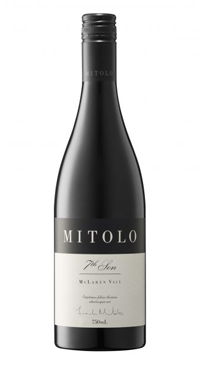 You may also like...