Chimay – Trilogy Gift Pack w/Branded Chalice Glass (990ml)
Beer Category

Trappist/Abbey
Chimay is the name of the Trappist brewery* that produces beer within the Scourmont abbey, 1km from the French border, and they have been brewing beer since 1862. Losing their copper brewing kettles to the Nazis during the war, the brewery had to restart over, but have since become arguably the most well-known Trappist brewery in the world. Like most Trappist breweries, Chimay has a house yeast culture, some may call a "super-yeast" that can produce exceptionally complex, and elegant styles of beer.
*The term Trappist Brewery relates to beer made within the walls of a Trappist abbey, where the brewing is performed by, or under the supervision of Cistercian monks. There are only a handful of legally defined Trappist breweries in the world.
Tasting Notes
Red:
Copper coloured, with creamy long lasting head. Aromas of milk chocolate, apricots, brown bread, and floral spice lead into an exceptionally smooth palate with Champagne-like carbonation. Belgian Dubbel is without question one of the most enjoyable food pairing styles you can find! Serve chilled, but not fridge cold.
Blue:
Pouring dark brown in colour with ivory, long lasting foam. Chimay Blue pumps out extremely complex aromas of brown bread, molasses, dark fruits, and spice that lead into a rich palate with noticeable alcohol warmth. If it weren't for the lively carbonation, this beer would be too cloying and heavy, rather it drinks light on its feet. Chimay Blue can, and should be aged for months or years to further develop it's already complex flavour. Enjoy with a soft rind cheese, or on its own at a chilled, but not cold temperature.
White:
Pouring a vibrant golden colour with dense white foam. The most hopped of the three, Chimay White exhibits herbal aromas of spice, golden raisins, honey, and floral notes. The palate is very complex, and drinks surprisingly light on its feet for such a high alcohol beer, this is largely thanks to the high carbonation and dry finish. Serve chilled, but not fridge cold.
Method
All 3 Chimay beers with the branded Chimay chalice!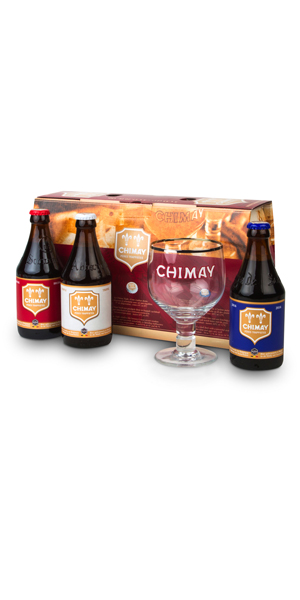 You may also like...