Am Stein Stettener Stein Grosse Lage Riesling (750ml)
Food Pairing

AperitifCharcuterieSeafood
Weingut Am Stein is nestled on the side of the most famous Franconian vineyard, the Würzburger Stein. Ludwig Knoll, together with his wife Sandra, meets the demands required for the production of superior quality modern German wines; incredible aromatics, purity of flavour, freshness and balance characterize their wines. Am Stein is a biodynamic wine producer.
Tasting Notes
VDP Grosse Lage (Great Growth) wines are of the highest quality. They derive from precisely delineated plots of terroir and are harvested completely by hand. The Stettener Stein, is a dramatic piece of landscape at 80 m above the river Main atop exposed limestone cliffs. Minimal intervention during vinification: no additions, filtrations or fining agents; extended time on the skins; spontaneous fermentation with wild yeast, full lees contact without batonnage until bottling; elaborate melange of 90% concrete and 10% 2nd fill oak; racked only once to clarify. This vintage produced a wine of 12,5 % ABV and 6 g/l residual sugar and 8,2 g/l of acidity. Elegant, crisp and refreshing with subtle hints of plum and a touch of tangerine. This dry style Riesling has structure, length and finesse. The minerality from Stettener Stein is represented beautifully and this wine will develop and evolve should you wish to hold onto a few bottles!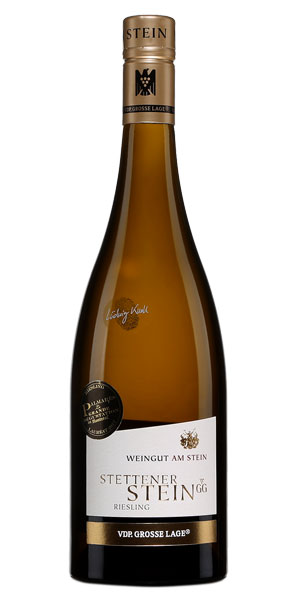 You may also like...