Annapolis Brewing – Acadian Honey Brown (473ml)
Beer Style

Brown AleWhether English or American versions, both offer a toasted nut, chocolate-y character, indicative of brown ales. Learn More

Sub-Region

Annapolis Valley

Tasting Notes

honeynuttyRoasted
Annapolis Brewing started a couple years ago and is located in the historic old town of Annapolis Royal. A couple of friends that were avid home brewers and decided to take it to the next level. They serve pints at the taproom near the water, and also package their beer that's found all over Nova Scotia.
Tasting Notes
An Ale for L'Acadie and its deep-rooted Nova Scotian culture; a blend of roasted and honey malt and real honey makes for a medium bodied brown ale with nutty notes and a hint of sweetness. It's like an Acadian kitchen party in a glass!
Method
Whether English or American versions of the Brown Ale, both offer a toasted nut, chocolatey character indicative of brown ales. The English Brown Ale varieties will not be as hoppy or bitter as their American counterparts and favour English hops as well as characterful English ale yeast. Annapolis Brewing's uses real honey, providing balance and contrast to the nutty, roasted flavours that come from the malt. 
Our Thoughts
Honey Browns aren't as common as they used to be but with this beer you'll be wishing they were; light to medium-bodied with toasted nuts, brown bread, and sweet honey on the nose and palate. Annapolis Brewing definitively proves that not only is the Valley the home of great wine and cider but great beer as well; their Acadian Honey Brown makes for the perfect partner to a roasted pork dinner.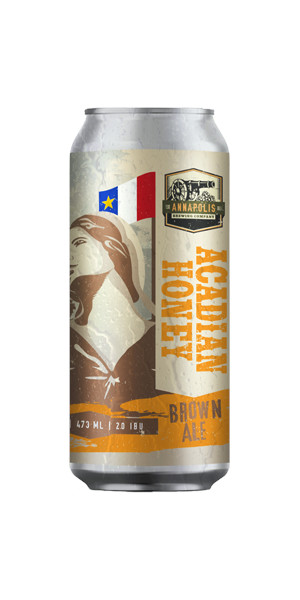 You may also like...