Argiano Rosso di Montalcino DOC (750ml)
Food Pairing

GamePasta DishesRed Meat
In 1967 Argiano made the history of Brunello di Montalcino by participating as a founding company in the birth of the Consortium of Brunello di Montalcino. In 1992 the estate passed from Caetani Lovatelli to the countess Noemi Marone Cinzano who introduced important innovations in the management of the winery and to whom the revival of the name Argiano was due. The world-renowned winemaker Giacomo Tachis arrived with the countess; an extraordinary partnership that lead to the birth of Solengo, the great Supertuscan of Montalcino.
Argiano practices organic and regenerative agriculture believing in the balance of biodiversity and pursues it through soil fertility practices, naturally assisting with algae, chestnut tannin, propolis and zeolite. Since 2019 Argiano is the first Montalcino plastic free company. All disposable plastics have been eliminated.
Tasting Notes
Rosso di Montalcino, made with 100% Sangiovese grapes like Brunello, is another expression of the tradition and terroir of Montalcino. Argiano's Rosso di Montalcino has a noble pedigree and is produced with the grapes grown in the Sangiovese vineyards that extend around the estate. The grape-variety is Sangiovese Grosso, a selected clone which has adapted perfectly to the soil at Argiano; this wine receives the same care and attention devoted to the Brunello, from vineyard management to bottling. Wines with the Rosso di Montalcino designation must age for about one year before release (there are no oak ageing requirements, but Argiano's Rosso does spend time in used French oak barriques and larger Slavonian oak barrels). This is deep ruby red in colour. It is medium bodied with a good concentration on the mid-palate. Elegant in the mouth, it is well balanced with tempting flavours of red berries, violets, menthol and earthiness. A generous wine with smooth, velvety tannins that will satisfy all Sangiovese lovers. The perfect companion at mealtimes, it is ideal paired with red meat, veal, bruschetta and all kinds of cheeses and pasta dishes.
Method
Argiano selects the grapes from its most noble vineyards and ages the wine in two different types of wood. Rosso di Montalcino is made from 100% Sangiovese grapes. The grapes are vinified in stainless steel tanks, with the must fermenting in contact with the skins for about two weeks, extending this time to three weeks if the grapes come from the best vineyards, in order to obtain the best possible concentration. Rosso di Montalcino undergoes malo-lactic fermentation, which makes it smoother. It then ages in French oak barriques which have already been used once and in larger Slavonian oak barrels until bottling time the following autumn. Argiano's oenologist describes our Rosso di Montalcino as fresh, vivacious and full of "easy to taste" but generous fruity flavours that are sufficiently versatile to develop greater depth over the years spent in the bottle.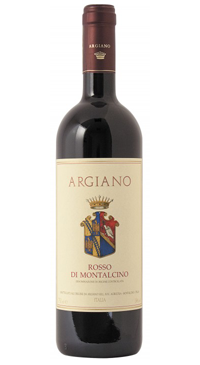 You may also like...