Armagnac Castarede 1979 (700ml)
Armagnac is France's oldest wine-based eau-de-vie, produced in the southwest of France with over 700 years of history. Known for its therapeutic properties during medieval times, in the 17th century Armagnac rose to become an everyday household good.
At the time, the only way to transport goods was via navigable channels, thus Armagnac trading houses started to settle near the Baïse- a river from the rich Garonne. The decree of the 25th of May 1909 outlined the production zone for the Armagnac Eaux-de-Vie and its three production regions. This was followed by the decree of the 6th of August 1936 which defined the 'Appellation d'Origine Contrôlée' Armagnac and its production process. Unlike Cognac, which takes its name from a town, Armagnac, is named after a local sovereign family.
Founded in 1832 by the Castarède family, the eponymous Armagnac distillery is the first trading company of France declared in Armagnac. Established in the area for six generations, Castarède has developed 16 hectares of vines comprising three white grape varieties: Ugni-Blanc, Folle Blanche and Colombard. The climate is soft and humid with sunny autumns and the soil is made of siliceous clay which is poor in lime, giving Bas Armagnacs a lightness and subtlety.
Castarède has become one of the most prestigious in the appellation due to their family's generations of traditional production, extra long ageing periods, and near-perfect cellar conditions.
Tasting Notes
This 35-year-old brandy from Gascony is rich and full bodied with notes of violets and stone fruits. Expect light, elegant floral notes from this one, paired with peach and juicy grape.
"Look for deep dried-and cooked-fruit aromas: fig, date and baked apple drizzled with caramel. The silky, remarkably light palate shows plum-flesh tartness at first, then dried dates and figs, and finally a long mocha finish accented by cinnamon, clove and orange peel. 96 points"- Wine Enthusiast Magazine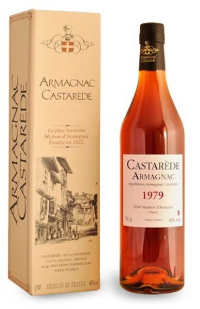 You may also like...