Ascheri Barolo Pisapola Verduno 2016 (750ml)
Food Pairing

CheesePasta DishesRed Meat
The Giacomo Ascheri Cellars originated in La Morra: in the early 19th century, the first vines were planted in that area, where a place called "Ascheri" still exists, and the first wines were produced. At that time in the Langhe, vine-growing and wine-making were still primitive and rudimental: wines were mostly sold in demijohns and they traveled for several days before reaching the selling points. However, a reliable account dating back to that period and concerning the "Ascheri" vine cultivation method ( then considered modern for its technical innovations ) clearly shows how, since its very beginning, the Ascheri Winery stood out for its commitment and innovative methods.
In 1880 the Ascheri winery was moved from La Morra to Bra, important town for the distribution of Barolo, where it is still situated nowadays. The Aschieri estate has expanded to and now includes the original La Morra Vineyards (mainly producing grapes for Barolo, Barbera d'Alba and Dolcetto d'Alba) the estates of Serralunga d'Alba, Verduno and Bra.
Tasting Notes
Pisapola Barolo shows expressive, fresh and vivid floral and dark berry aromas and flavors. It has a lush texture and soft, silky tannins. Opulent ripe fruit balances Nebbiolo's firm tannins, giving the sensation of sweetness (though it is indeed a fully dry wine) and making the Pisapola the most accessible of the Ascheri Barolos.
Method
The Ascheri Barolo Pisapola comes from the commune of Verduno in the La Morra area. It is his smallest production Barolo. The soils here, coupled with the relatively high altitude of the Pisapola site, give a forward-fruit style of Barolo. Ascheri vinifies to accentuate this fruit forward style; they use a pneumatic press so as to not extract harsh tannins. Similarly, during the fermentation and maceration period, the juice is regularly circulated over the solids and there is no punching down of the cap.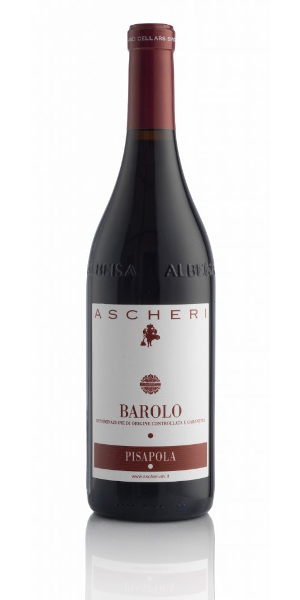 You may also like...