Avondale Sky Montavista (750ml)
Sub-Region

Annapolis Valley

Food Pairing

BBQPorkWarm Vegetable Dishes
The vineyards of Avondale Sky are located on gentle southern slopes on the Avon Peninsula. Avondale Sky officially opened its doors as a winery in October of 2011. Stuart Creaser and Lorraine Vassalo bought the former St. Matthews church for $1.67, the same price the congregation paid for the building in 1844. In May 2011, the Carpenter Gothic-style building was lifted off its foundation and transported down the coast atop a car ferry. Today the former church is the retail shop at Avondale Sky. Many of the other buildings on the site have been re-purposed as well. Winemaker, Ben Swetnam, a Nova Scotian who graduated from the Niagara College Winery and Viticulture program is the winemaker and he crafts wines for a broad range of palates.
Tasting Notes
Montavista is a blend of 45% Maréchal Foch, 41% Leon Millot, 10% Lucie Kulhmann, 4% DeChaunac; co-fermented in large stainless steel tanks and macerated for 5 weeks before pressing and ageing in French and American oak. Some gentle mico-oxygenation during the maturation process contributed to the wines softness and aromatic development. Aromas of dark fruit (blackberry, cassis, dark cherry, and mulberry) oak (cedar, cigar box, vanilla) with spicy clove and cinnamon. Velvety tannins and balanced acidity with lots of ripe fruit and spice on the finish make this a very easy drinking red.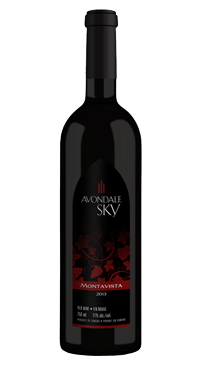 You may also like...