Avondale Sky Tidal Bay (750ml)
Sub-Region

Annapolis Valley

Food Pairing

Cold SaladsSeafood
The vineyards of Avondale Sky are located on gentle southern slopes on the Avon Peninsula. Avondale Sky officially opened its doors as a winery in October of 2011. Stuart Creaser and Lorraine Vassalo bought the former St. Matthews church for $1.67, the same price the congregation paid for the building in 1844. In May 2011, the Carpenter Gothic-style building was lifted off its foundation and transported down the coast atop a car ferry. Today the former church is the retail shop at Avondale Sky. Many of the other buildings on the site have been re-purposed as well. Winemaker, Ben Swetnam, a Nova Scotian who graduated from the Niagara College Winery and Viticulture program is the winemaker and he crafts wines for a broad range of palates.
Tasting Notes
Avondale Sky's 2018 vintage of Tidal Bay is a blend of 43% Vidal Blanc, 35% L'Acadie Blanc, 17% Geisenheim 318, 5% Ortega. The wine has naturally high acidity and balancing residual sugar.
The 2018 growing season started off warm and promising. June 4th brought a once-in-a-century freeze event destroying the tender shoots and ultimately resulting in an 89% crop loss. The summer was unusually hot and humid leading into a very typical Nova Scotian fall. The summer heat allowed primary clusters to ripen very well, while late forming secondary clusters maintained the higher acidity typical of Nova Scotia grapes. This wine is a blend of nine separate ferments. A complex combination of different yeasts, fermentation vessels, terroirs, and of course different varieties were used to build as much character into this wine as possible. The nose shows notes of citrus, apple, and peach, with hints of white flowers and minerality. The palate is soft yet crisp, with ripe fruit and mineral notes. The finish showsmore peach and citrus, with a hint of spice and lingering minerality.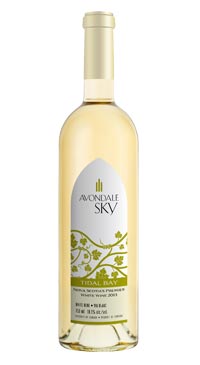 You may also like...