Ayinger Altbairisch Dunkel (500ml)
Ayinger Brewery has a long-standing reputation for excellence in beer and hospitality. Although Ayinger was founded in a picturesque village 25 kilometers from Munich in 1878, the site of the Ayinger Gasthaus Brewery Hotel has been one of Bavaria's most famous restaurants for more than 500 years.
In the shadow of the Alps, nestled in the 1200 year-old village of Aying (pronounced eye-ing), Brauerei Aying produces 12 different styles of beers, more than most of the larger German breweries. The Ayinger Brewery has been owned and operated by the same family since 1878 and represents one of the most pleasant and interesting small breweries which are typical of Europe. Brewing good beer is the premier duty of Aying, and people come from all over the world to sample the brews.
Tasting Notes
Deeply hued with a chestnut-ruby sparkle, this lightly hopped and malty quaff calls forth freshly baked pumpernickel, toast, figs, sweet toffee, and malted milk mingling with molasses soaked brown bread notes. But despite these heavy sounding flavours, this Dunkel drinks very light on its feet. Finishes up dry with moderate carbonation and creamy mouthfeel. This is a luxurious beer.
Method
Translated to English, the name literally means "Old Bavarian Dark Beer." This is the most traditional style of beer in Bavaria. Before light beers were introduced from the big cities, most village beer — like most village bread — was dark, toasty and flavorful.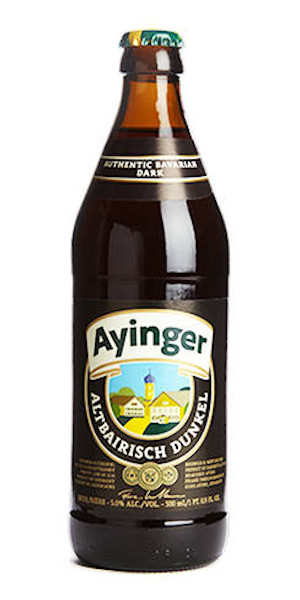 You may also like...