Ayinger – Jahrhundert Export Helles (500ml)
Beer Style

Export Helles / Dortmunder

Tasting Notes

BalancedMaltySmooth
Ayinger Brewery has a long-standing reputation for excellence in beer and hospitality. Although Ayinger was founded in a picturesque village 25 kilometers from Munich in 1878, the site of the Ayinger Gasthaus Brewery Hotel has been one of Bavaria's most famous restaurants for more than 500 years.
In the shadow of the Alps, nestled in the 1200 year-old village of Aying (pronounced eye-ing), Brauerei Aying produces 12 different styles of beers, more than most of the larger German breweries. The Ayinger Brewery has been owned and operated by the same family since 1878 and represents one of the most pleasant and interesting small breweries which are typical of Europe. Brewing good beer is the premier duty of Aying, and people come from all over the world to sample the brews.
Tasting Notes
A world classic – slightly richer than Ayinger's helles lager, the Jahrhundert Bier tips the balance in favour of spicy-herbal hops and smooth bitterness. But the malt's no mere bit-player here, its layered complexity highlighting country bread, honeyed graham cracker, and blanched almonds.
Method
On the lighter end of the spectrum of Ayigner's offerings, the delicious Jahrhundert Bier, an export-strength beer first brewed in 1978 to celebrate the brewery's centenary. This would be classified as an Export Helles Lager, slightly higher alcohol range and more hop character than an normal Helles.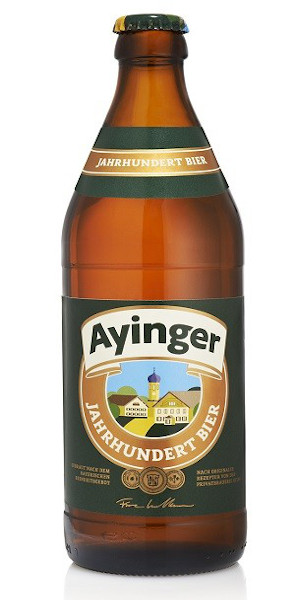 You may also like...