Ayinger – Oktoberfest Marzen (500ml)
Tasting Notes

ComplexMaltySmooth
Ayinger Brewery has a long-standing reputation for excellence in beer and hospitality. Although Ayinger was founded in a picturesque village 25 kilometers from Munich in 1878, the site of the Ayinger Gasthaus Brewery Hotel has been one of Bavaria's most famous restaurants for more than 500 years.
In the shadow of the Alps, nestled in the 1200 year-old village of Aying (pronounced eye-ing), Brauerei Aying produces 12 different styles of beers, more than most of the larger German breweries. The Ayinger Brewery has been owned and operated by the same family since 1878 and represents one of the most pleasant and interesting small breweries which are typical of Europe. Brewing good beer is the premier duty of Aying, and people come from all over the world to sample the brews.
Tasting Notes
Pouring light copper in color with a crown of thick white foam, the nose offers notes of caramel and biscuity malt. It's soft across the palate, delivering rich malt complexity that's tempered by touch of herbaceous European hops. Year after year, one of the finest Oktoberfests available anywhere, and now finally available at Bishop's Cellar.
5.8% abv
Method
Bavarians have been celebrating the harvest with beer festivals since before the 1400s. Märzen is brewed in March to be ready for the September and October beer festivals. Ayinger's Oktoberfest Marzen lager is widely considered to be one of the finest examples of it's style in the world.
A rich golden lager that sees intensive double decoction mashing with the mixture of three malts, along with Noble German hop varieties, fermented low and slow for weeks and then allowed to condition at almost freezing temperatures for an ultra crisp and light mouthfeel.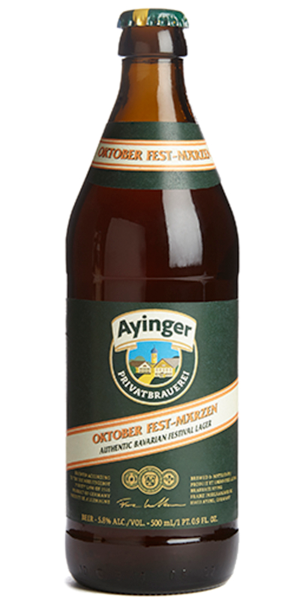 You may also like...