Banished – Intergalactic Puffin Triple IPA (473ml)
Beer Style

Triple IPAA stronger Double IPA? A new, emerging beer style? In any case, you can be sure that this beer style will contain the most hops, alcohol, and intensity in it's hoppy category. Learn More

Tasting Notes

BitterBoldSmooth
After any iterations and countless hours of planning, Banished Brewing opened their doors in early 2022 and have quickly established themselves as one of Newfoundland's most sought-after breweries. Their goal is to contribute to and enhance the craft beer community, create products that will evolve with their education and abilities, build a brand focused on quality, represent the arts, and have as much fun as possible along the way. With quality recipes, and label artwork done by Halifax's own Paul Hammond, these delicious beers will impress both your eyes and palate.
Tasting Notes
Robust, and completely jam packed with an array of hop flavour and aromatics. Dank herbal aromas that mingle with stone fruits, citrus peels, and tropical fruits come together in this boozy, yet ultra smooth Triple IPA. "An iron fist in a velvet glove" would be an appropriate comment to make about this beer.
Method
Triple IPAs  – is it just a really strong Double IPA, or a new emerging style? However you classify it you can be sure that this beer style will contain the most hops, alcohol, and intensity to be found in any sort of hoppy beer.
This is it, the end, the final phase of the puffin. To achieve this level is to go down in the annals of puffin history. They traverse the multiverse freely, dropping cans of 10% deliciousness on every world they find. Basically, Banished brewing dialled up Space Puffin, not to 8, but to 10. Very robust and hides the alcohol almost too well. Be careful.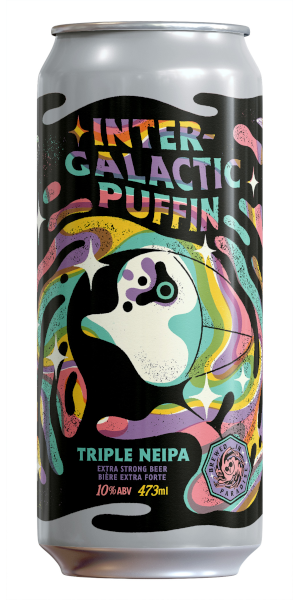 You may also like...