Banished – Tall Trees West Coast IPA (473ml)
Beer Style

West Coast IPAAll about hop flavour, aroma, and bitterness, characterized by floral, fruity, citrus-like, piney or resinous American-variety hops. Learn More

Tasting Notes

BitterCitrusDank
After any iterations and countless hours of planning, Banished Brewing opened their doors in early 2022 and have quickly established themselves as one of Newfoundland's most sought-after breweries. Their goal is to contribute to and enhance the craft beer community, create products that will evolve with their education and abilities, build a brand focused on quality, represent the arts, and have as much fun as possible along the way. With quality recipes, and label artwork done by Halifax's own Paul Hammond, these delicious beers will impress both your eyes and palate.
Tasting Notes
Lively aromatics of a classic West Coast IPA. Herbal and dank notes with pine resin and woodsy aromas mingle with grapefruit peel and lemon rind. The palate is full and loaded with citrus and some caramel notes that lead into a dry, bitter finish with a little lingering sweetness.
Method
Characterised by floral, fruity, citrus-like, piney or resinous American-variety hop character, the West Coast IPA beer style is all about hop flavour, aroma and assertive bitterness.
The trees are taller on the west coast and this hefty IPA was made in their image. As per style, the aroma is super-sized, and a middle of the pack amount of bitterness, and rounded out with hops known for their notes of citrus and pine.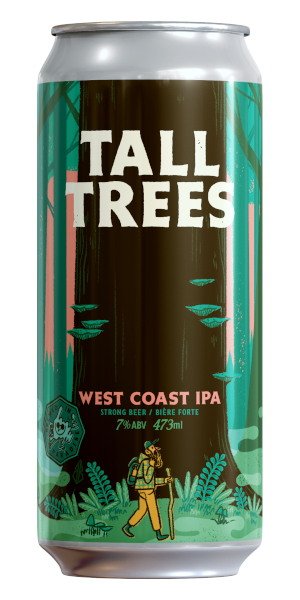 You may also like...