Beausoleil – Mimosa Orange Cider (750ml)
Tasting Snapshot

Crisp
Fruity
Dry

Tasting Notes

CrispDryFruity
Beausoleil Farmstead is a new small family-owned farm located in the rich agricultural landscape of the Annapolis Valley. Led by award-winning cider-maker Melanie Elman, they create artisanal cider-and-wine blends anchored in their philosophy of combining sustainable farming with cellar experimentation.
Tasting Notes
Chardonnay infused with fresh oranges, blended with Annapolis Valley cider and sparkled to a bubbly effervescence. Celebrate everyday with this unique take on the classic Mimosa – no need to make your own! This vibrant fusion of wine and cider has bright notes of tangy citrus and a refreshingly crisp finish.
7.8% abv
Method
Chardonnay grapes grown in the Annapolis Valley are fermented at Beausoleil where the wine is then infused with fresh orange juice and zest before it is blended with fresh apple cider that is also made at the cider house. The blend is left to be just off-dry which helps boost the orange flavour.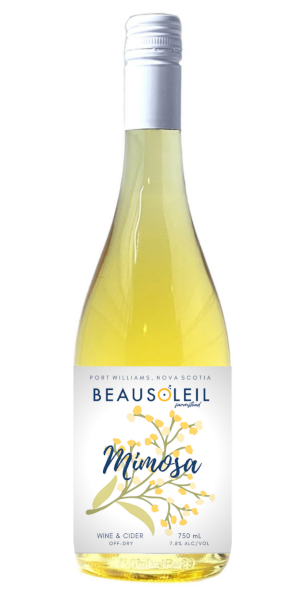 You may also like...