Bellwoods – A Stout with Coffee (473ml)
Tasting Notes

ComplexFruitySmooth
One of Canada's most prolific craft breweries to pop up in the last decade – Bellwoods continues to impress and amaze anyone who can get their hands on a bottle. Over the years they've gone from lineups around the block at their Ossington ave. location, to opening a second much larger brewery, complete with rows and rows of barrels for mixed fermentation and dark beer ageing. So far in the Canadian craft beer scene, not many other breweries have made as many waves as Bellwoods.
Tasting Notes
A Stout With Coffee utilizes a lower abv base stout featuring notes of dark chocolate and dark fruits as the foundation to let this espresso blend do the talking. The particular espresso blend that's used in this beer is known to be a rich, sticky sweet, low-acidity coffee with fruity notes. The beer and coffee work harmoniously together to create a smooth and expressive dark beer.
Method
Coffee Stouts are one of the many iterations of the dark beer family. In this case, Bellwoods Brewery teams up with Toronto cafe/roastery Sam James Coffee Bar to feature their own "Butterknife Espresso" roast which is a 80% blend of natural process Brazilian, and 20% washed Guatemalan beans.
Express Shipping!
For select shipping postal codes, this product may be eligible for Express Delivery! Click here to learn more.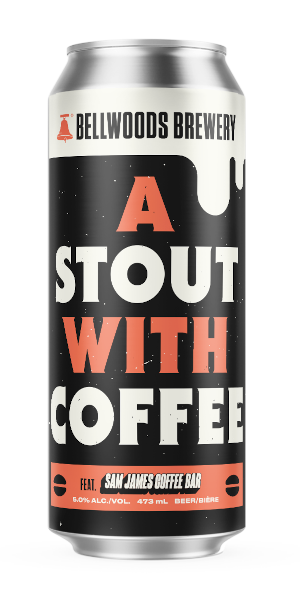 You may also like...