Bellwoods Jelly King – Dragonfruit / Pineapple (500ml)
One of Canada's most prolific craft breweries to pop up in the last decade – Bellwoods continues to impress and amaze anyone who can get their hands on a bottle. Over the years they've gone from lineups around the block at their Ossington ave. location, to opening a second much larger brewery, complete with rows and rows of barrels for mixed fermentation and dark beer ageing. So far in the Canadian craft beer scene, not many other breweries have made as many waves as Bellwoods.
Tasting Notes
Massive aromas and flavuors of freshly squeezed tropical fruits, pineapple, mango, guava, and dragon fruit all come together in a refreshing, lightly soured beer. This won't last long!
5.6% abv
Method
This limited edition Jelly King variant was conditioned on red dragon fruit and pineapple.
Rather than choosing between sour or hoppy, Bellwoods decided to create a beer that would be both at the same time. Showcasing the aromatic benefits of a generous dry hop (Citra, Amarillo, and Cascade), harnessing the pleasing acidity of lactic acid producing bacteria (using a 5-strain house blend), and coming to a bottle near you without a pesky 2 year slumber in oak, Jelly King is the fermented embodiment of having your cake and eating it too.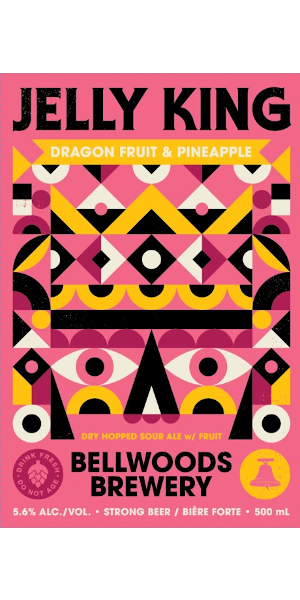 You may also like...