Ben Marco Cabernet (750ml)
Food Pairing

BeefCheeseSausages
BenMarco has more than 3,000 acres of vineyards across Argentina's diverse terroirs, Edgardo "Edy" Del Popolo, General Manager of Susana Balbo Wines in Mendoza and head winemaker for BenMarco, is one of Argentina's most knowledgeable winegrowers. BenMarco wines are made with minimal intervention to allow for the purest interpretation of what's underground on the extreme sites where the grapes for BenMarco are grown. "I try to avoid adding my influence to BenMarco wines," Edy says. "What I really like to see is what the vines can do, without any kind of winemaking influence."
Tasting Notes
It is a floral, rich and concentrated wine. On the palate, notes of black fruits, black pepper and cassis are perfectly well balanced with fine grained tannins that give a nice tension to the wine. Enjoy with beef, sausages, spiced or grilled pork, medium-strong cheeses, and meat-based pasta sauces.
Method
BenMarco Cabernet comes from alluvial soils in Los Árboles, Tupungato (Uco Valley, Mendoza) region.  This is an area ideally suited to producing ripe Cabernet Sauvignon grapes, yielding intense juicy red fruit with slightly spicy and herbal touches.  The grapes are hand harvested and fermented at a maximum of 28° C with 25 days of contact with the skins. Complete malolactic fermentation. Aged for 11 months in 100% second use French oak barrels.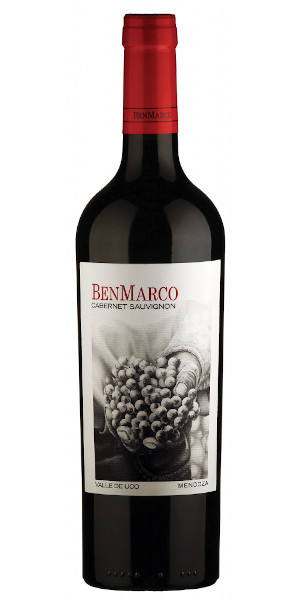 You may also like...