Benjamin Bridge Brut Reserve (750ml)
Benjamin Bridge vineyards are located in the heart of the Gaspereau Valley on the Bay of Fundy, where the cool climate bears an uncanny affinity with the Champagne region of France. The estate makes a range of wines;sparkling, white, red, rose, dry and sweet. Though the focus is on making world-class Méthode Classique sparkling wines that have been compared in tastings to Champagne. The hand crafted wines of Benjamin Bridge have helped raise the profile of the Nova Scotian wine industry.
Tasting Notes
The 2011 growing season was elongated and cool, lasting long into the fall, and resulting in lower crop yields yet very high grape quality as a direction correlation. The 2011 Brut Reserve fruit was entirely grown and harvested by hand on our estate vineyards on the south facing slopes of the Gaspereau Valley. This traditional method sparkling is comprised of 100% organic vinifera grapes, a blend of Chardonnay and Pinot Noir, the classic Champagne varieties. At inception this was a very notable base wine, which aged in stainless steel, then, spent a remarkable five years on lees, gaining much complexity and lingering depth – the Benjamin Bridge hallmark.
50% Chardonnay, 50% Pinot Noir
Our Thoughts
In the glass pale golden colour with a straw hue. On the nose, the wine displays sea minerals, lemon rind and green apples. Rich yet weightless, the palate features hints of almond and orange peel, as well as impressive overall texture and structure. A long and energetic finish enhances the wine's already impressive purity. – Head Winemaker, Jean-Benoit Deslauriers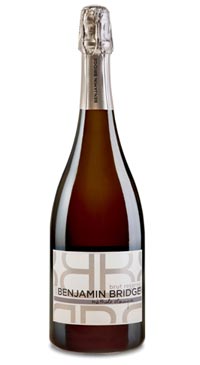 You may also like...