Benjamin Bridge Piquette Mix 6 pack White & Rose (1500ml)
Food Pairing

AperitifBurgersSausages
Benjamin Bridge vineyards are located in the heart of the Gaspereau Valley on the Bay of Fundy, where the cool climate bears an uncanny affinity with the Champagne region of France. The estate makes a range of wines;sparkling, white, red, rose, dry and sweet. Though the focus is on making world-class Méthode Classique sparkling wines that have been compared in tastings to Champagne. The hand crafted wines of Benjamin Bridge have helped raise the profile of the Nova Scotian wine industry.
White or Pink Piquette? Now you don't have to decide; this 6-pack includes 3 white cans and 3 rose cans!
Tasting Notes
Tasting Note (Piquette) "On the nose, a cascade of freshly squeezed ruby grapefruit and lime zest is interlaced with suggestions of
blooming lavender tree. On the palate, a myriad of lively citrus notes creates the most refreshing balance between hints of zesty lime
and a delicate touch of maritime salt."
Tasting Note (Pink Piquette) "On the nose, enticing tropical flower notes are brightened by hints of ruby red grapefruit and papaya. The palate is pleasantly light, with refreshing weightlessness and aerial, aromatic suggestions of elderfl ower and rosehips for a touch of complexity."
Method
Piquette is the name of a low-alcohol wine beverage made from plumping up the second pressings of grape pomace with water, known to have been enjoyed by French farmhands and vineyard workers. Paying homage to the history of Piquette as an easy-drinking
wine to quench the thirst of agricultural workers, our own take and twist on the style has been made with the objective to
reinvigorate. For optimal refreshment, the folks at Benjamin Bridge added a pinch of hand made salt flakes from the Bay of Fundy.
To make the Pink Piquette stand out and display a unique profile, it was delicately infused organic Rosehip and Elderflower,
adding aromatic complexity to this wine refresher. As the grape skins are essential to the process, they used New York Muscat,
for its unmistakable colour and floral fragrance.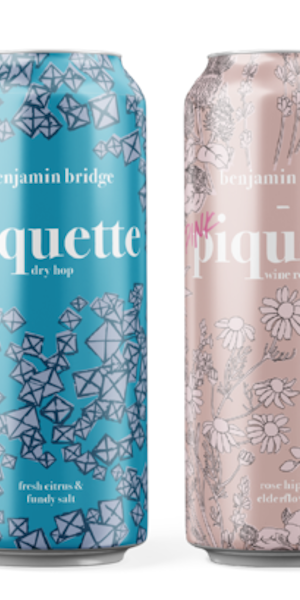 You may also like...