Benjamin Bridge Piquette Wild 4pk (250ml)
Benjamin Bridge vineyards are located in the heart of the Gaspereau Valley on the Bay of Fundy, where the cool climate bears an uncanny affinity with the Champagne region of France. The estate makes a range of wines;sparkling, white, red, rose, dry and sweet. Though the focus is on making world-class Méthode Classique sparkling wines that have been compared in tastings to Champagne. The hand crafted wines of Benjamin Bridge have helped raise the profile of the Nova Scotian wine industry.
Tasting Notes
In the glass, an electric seafoam green colour reminiscent of the South Pacific sea. On the nose, a myriad of zesty and invigorating notes of icy mango, papaya and key lime sorbet. The palate is lively and uplifting, with vibrant suggestions of lemon peel and ocean minerals interlaced with a distinctive maritime salinity.
Method
A piquette is a low-alcohol wine beverage made from the second pressings of grape pomace.  This drink has long been enjoyed by French farmhands and vineyard workers. In recent years, the style has seen a grassroots renaissance due in part to its unprecedented ability to connect genuine artisan practices with a surprisingly attractive price previously out of reach for small boutique wineries. The true beauty of Piquette is that it unites low-intervention craftsmanship and affordability by relying on the highly sustainable act of reducing waste. 
This wild version of Piquette is made with Ortega, Sauvignon Blanc, Geisenheim skins.  5% abv and 0 g/l RS.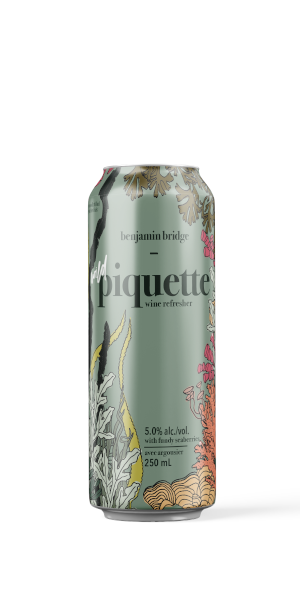 You may also like...