Benjamin Bridge Riesling (750ml)
Sub-Region

Annapolis Valley

Food Pairing

AperitifSeafoodSpicy Foods
Benjamin Bridge vineyards are located in the heart of the Gaspereau Valley on the Bay of Fundy, where the cool climate bears an uncanny affinity with the Champagne region of France. The estate makes a range of wines;sparkling, white, red, rose, dry and sweet. Though the focus is on making world-class Méthode Classique sparkling wines that have been compared in tastings to Champagne. The hand crafted wines of Benjamin Bridge have helped raise the profile of the Nova Scotian wine industry.
Tasting Notes
This Riesling marks the third wine in the Benjamin Bridge single varietal vinifera portfolio, following Sauvignon Blanc and Cabernet Franc Rosé. While small lots of Riesling from '12, '13, and '14 have been allocated to the BB wine club members in the past, this 2015 vintage is the first time this wine is available for purchase. The grapes are sourced from three distinct vineyard sites along the Bay of Fundy, each lot has a unique microclimate with soils ranging from gravel and clay, to deep sandy loam. To accentuate the singular yet unifying qualities specific to these sites, the wines were wild fermented, relying on indigenous yeast strains from the unique sites to allow for the natural expression of each vineyard. The result is a powerfully aromatic Riesling with characteristic high acidity and freshness. The grapes were harvested at 18 brix and the finished wine came in at 9.5% ABV making it a balanced off dry style with 16 g/L of residual sugar.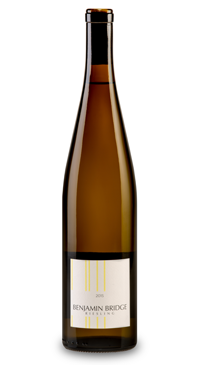 You may also like...