Big Spruce Bliss Lime Seltzer (473ml)
Located in Nyanza, just west of Baddeck on Cape Breton Island, Big Spruce Brewing is a certified organic, on farm facility. The unfiltered, unpasteurized organic beers are sold in refillable 1.89 litre growler bottles at the brewery, in 473ml cans and on tap at select locations around Nova Scotia.
Cape Breton's first Craft Microbrewery. Atlantic Certified Organic Facility. First and only on-farm Craft Microbrewery in the Maritimes. Only the second on-farm certified organic brewery in all of Canada!
Tasting Notes
Canada's first certified organic hard seltzer, made with 100% local ingredients. This is a crisp, refreshing, low-cal, and no sugar beverage packed with Lime notes.
Method
Big Spruce is the first brewery in Canada to acquire a special type of beverage filtration system. The system runs finished beer through a filter that actually separates the alcoholic water away from every other aspect of beer, leaving behind a "beer concentrate" that could be re-hydrated into a non-alcoholic beer. The alcoholic water is then carbonated and infused with flavour essence to create the Bliss hard seltzers.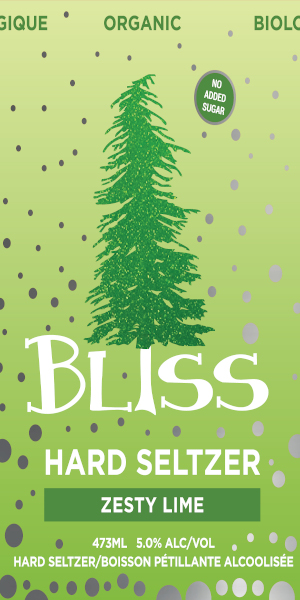 You may also like...