Big Spruce – Guava Get Me Some IPA (473ml)
Located in Nyanza, just west of Baddeck on Cape Breton Island, Big Spruce Brewing is a certified organic, on farm facility. The unfiltered, unpasteurized organic beers are sold in refillable 1.89 litre growler bottles at the brewery, in 473ml cans and on tap at select locations around Nova Scotia.
Cape Breton's first Craft Microbrewery. Atlantic Certified Organic Facility. First and only on-farm Craft Microbrewery in the Maritimes. Only the second on-farm certified organic brewery in all of Canada!
Tasting Notes
You know and love this summer sipper – this tropical IPA is hazy and pours the colour of honey, with bright, tropical hops bringing flavours of pineapple, mango, lemon zest and of course, Guava! Dry on the finish with a lingering bitterness, Guava Get Me Some is the perfect beer for evening patio hangouts with your pals!
6.4% abv
Method
Adding ridiculous amounts of fruit puree into IPA's isn't anything new, craft brewers have been doing it for years. Big Spruce always nails it with Guava Get Me Some. They took an already juicy dry hopped IPA and then added kilos of organic guava puree, further enhancing the intense tropical profile of the beer.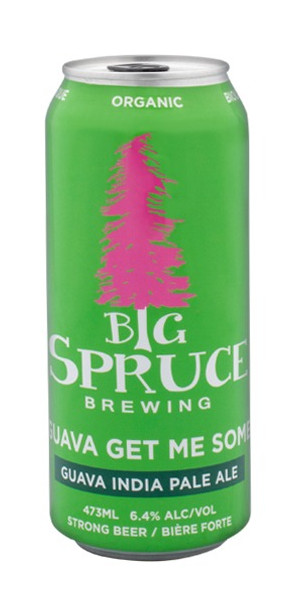 You may also like...