Big Spruce Ra Ra Rasputin Glenora Barrel (330ml)
Beer Style

Imperial Stout
Located in Nyanza, just west of Baddeck on Cape Breton Island, Big Spruce Brewing is a certified organic, on-farm facility. The unfiltered, unpasteurized organic beers are sold in refillable 1.89 litre growler bottles at the brewery, in 473ml cans and on tap at select locations around Nova Scotia.
Cape Breton's first Craft Microbrewery. Atlantic Certified Organic Facility. First and only on-farm Craft Microbrewery in the Maritimes. Only the second on-farm certified organic brewery in all of Canada!
Tasting Notes
Rich aromas of heavily roasted malts of espresso, dark chocolate, and black licorice along with subtle fruitiness of dates, and raisins that mingle nicely with the whisky tones from the barrel. The palate is intensely flavoured with many of the same notes as the aroma, that all leads into a full bodied mouthfeel with moderate carbonation and pleasant warming alcohol sensation. This is a slow sipper, served only slightly chilled for maximum flavour. Can be cellared for years, if you wish!
10.5% abv
Method
The original Ra Ra Rasputin edition, aged in Glenora Whisky barrels for 3 months, then cellared in bottle for another 2 months to complete bottle fermentation.
Imperial Stouts have been aged in Whisk(e)y barrels for years, and for good reason – the flavours of the beer naturally compliment the flavours left in the barrel. Over several uses, the barrels can loose some of their whisky flavour, so the fact that this version is only aged for 3 months means that the barrels are probably first use. As in, the first time a beer has been put in them since they left the distillery. This means the beer can pickup those whisky notes much faster than a barrel that's been used several times.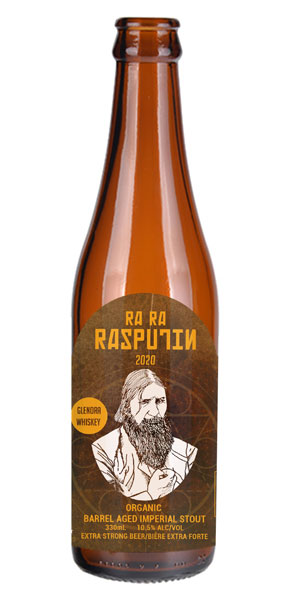 You may also like...