Big Spruce Tim's IPA (473ml)
Located in Nyanza, just west of Baddeck on Cape Breton Island, Big Spruce Brewing is a certified organic, on farm facility. The unfiltered, unpasteurized organic beers are sold in refillable 1.89 litre growler bottles at the brewery, in 473ml cans and on tap at select locations around Nova Scotia.
Cape Breton's first Craft Microbrewery. Atlantic Certified Organic Facility. First and only on-farm Craft Microbrewery in the Maritimes. Only the second on-farm certified organic brewery in all of Canada!
Tasting Notes
This is an occasional one-off beer we brew in honour of Brewnoser Tim Gregory, who won our inaugral Homebrew Challenge in December of 2013. Heavily dry hopped with Simcoe hops, this is a well balanced, caramel rich, deeply aromatic beer. We brew and release this as and when we can get a hold of the rare Simcoe hop! 69IBU, 6.4% ABV
Our Thoughts
Big Spruce is one of my favourite local breweries and after years of filling my growler up with their brews, I'm excited to take home a few cans instead. This beer is the perfect balance between hops and malts- the caramel colour doesn't hurt. One of my go to local brews to have with a burger.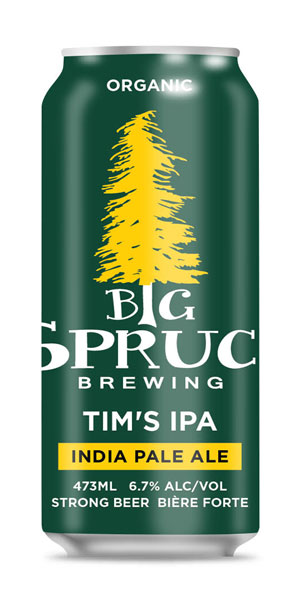 You may also like...