Boars Back Ancestral 2017 Vintage (750ml)
Sub-Region

Annapolis Valley
For centuries in the Annapolis Valley, farmers have pressed apples and fermented the juice in cool cellars over many months as a means of preservation and to yield a diverse range of cider refreshments. Boars Back Cider uses native and selected wine yeasts to ferment pure apple juice in oak casks, for a natural taste that harkens back to years past. The cider is bottled with a small amount of residual sugar remaining, allowing for the fermentation to continue and finish in bottle, yielding a naturally sparkling dry cider.
Tasting Notes
Ancestral is a lighter, more delicate version of the cask 17-12. Very dry, with just a subtle touch of funk, baked apple, and toasty barrel character that's very reminiscent of good white wine. This is an ideal aperitif cider, or something to have with a ham and brie sandwich for lunch.
6.5% abv
Method
This vintage spent one year in neutral oak barrels to further develop. One of the many reasons Boars Back is putting out some of the best cider we've tried in NS. They take the time needed to develop complex flavours, most of their 750ml bottle releases could easily pass as good naturally fermented white wine – and at $13.00, that sounds like a good deal to us! This batch was bottled Feb-2019.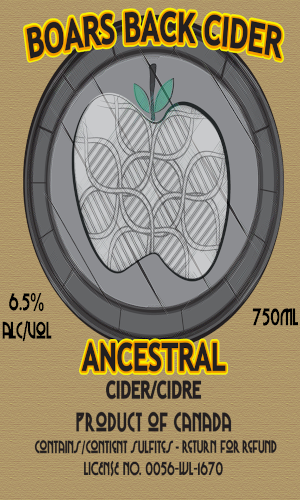 You may also like...