Wild – Boar Cider (500ml)
Boars Back Cider is now called Wild Wines & Spirits
For centuries in the Annapolis Valley, farmers have pressed apples and fermented the juice in cool cellars over many months as a means of preservation and to yield a diverse range of cider refreshments. Wild Wines & Spirits uses native and selected yeasts to ferment pure apple juice, pressed on-site from apples they hand pick themselves. The cider is fermented slowly over the cool winter months, aged in barrels and tanks, then blended and bottled the following year.
Tasting Notes
A rich, dry, full-bodied cider displaying layers of both young and aged notes. This blend of multiple vintages achieves a balanced, complex house style.
Method
Seasonal, estate pressing of freshly picked Annapolis Valley apples is followed by fermentation over the cool winter months using native and selected wine yeasts. A house blend of multiple vintages and barrel aged ciders. Force carbonated with no added sugar. 
Our Thoughts
I've always enjoyed the ciders that are produced by Boars Back. The cidery is located just outside of Kingston, NS and they focus almost exclusively on barrel fermented and barrel aged ciders. They make ciders using select apple varieties from all over the Annapolis Valley, usually from small growers. The Appleachian is one of the cider house's core offerings, fermented slowly in oak barrels over the winter with Annapolis grown apples. It is bone dry, as in zero grams of sugar! Hints of orchard blossom, savoury broth, and baked apple with caramel sauce on the nose carries on to a textured palate of red apple skin and a finish of freshly sliced apples. This cider, when enjoyed at the right temperature, has the same textural and flavour profile of a fine Chenin Blanc wine. It is best served just chilled, and not cold, for best results. I think Boars Back is making some of the finest cider in the province, and you shouldn't miss out on it. Grab a large chunk of soft rind cheese, maybe some local honey, and go to town!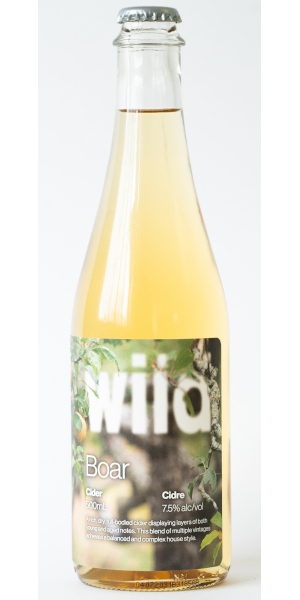 You may also like...