Bodega del Abad San Salvador Godello (750ml)
Food Pairing

AperitifCold SaladsSeafood
Bodega del Abad Dom Bueno was founded in 2003 in the Bierzo region of Spain in Castilla y Leon. The region enjoys a unique microclimate resulting from the combination of the Atlantic and Mediterranean influence. 40 hectares of vineyards are planted with Mencia and Godello grapes.
Tasting Notes
Aromas of fresh stone fruit (peach and apricots), with a mineral quality and good structure and volume on the palate. The fruit flavours continue onto the long finish.
"The 2013 San Salvador is sourced from the oldest Godello vines on the San Salvador quarter of the village of Valtuillede Arriba. Two-thirds of the volume fermented in 500-liter oak barrels and the rest fermented in stainless steel. The wine didn't go through malolactic fermentation to preserve acidity and liveliness. The oaked part matured in barrel for one year while the stainless steel component was kept in contact with the lees for some six months. It definitely has less oak than before and it's a lot fresher, a very interesting Godello;it is ripe without excess, mixing some mineral/diesel aromas with balsamic notes. The palate feels quite compact; there's good volume, consistency and texture, with some spicy flavors, reminiscent of the élevage, faint vanilla and a touch of smoke. An impressive Godello, complex and different. 1,732 bottles were filled in May 2015. Bodega del Abad keeps producing clean, modern wines from their winery in the village of Carracedo. 2013 and 2014 were shorter harvest given the adverse climatic conditions, especially in 2013." – Robert Parker
Our Thoughts
The Godello grape gives wines delicate aromas and a subtle mouth feel. Pale yellow, similar to young lemons. Very bright and clean. Fragrant aromas of fresh stone fruit (think peach and apricot) with beautiful mineral notes. Body and structure are provided by well balanced oaking. A must try wine! It will not disappoint.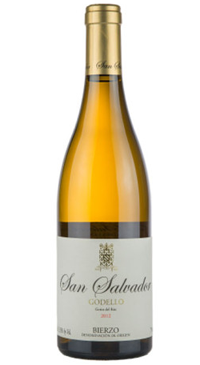 You may also like...