Bogside Open Saison (473ml)
Region

Prince Edward Island
From beautiful Montague, PEI – Bogside Brewing was named Atlantic Canada's brewery of the year, as well as new brewery of the year in the 2019. Head brewer, Mark Patriquin started his brewing game in Tatamagouche and has since gained some serious chops brewing on the West Coast. Bogside focuses on well made German styles, Belgian farmhouse, and American ales.
Be sure to check out the brewery in Montague, a brand new industrial ranch-style brewery with great food, and a large outdoor patio.
Tasting Notes
Open Saison pours a bright yellow, and is packed with complex aromas of citrus peel, cracked pepper, subtle notes of bread, and fresh herbs. The mouthfeel has lively carbonation, with firm, but balanced bitterness, and a crisp, dry finish that makes Saison one of the most thirst quenching styles out there today.
Method
Brewed in the style of the Belgian Saison, known as the world over as one of Belgium's most refreshing and complex styles of beer. Modern craft versions can run the gamut in terms of flavour and character, some employ the use of the slow-acting yeast, Brettanomyces, which creates some funky aromas of leather, barnyard, and sometimes vibrant tropical fruits. The Bogside Saison however, chose the "clean" version, without any Brett, this beer is all about bright citrus and spice notes.
ABV: 5.0%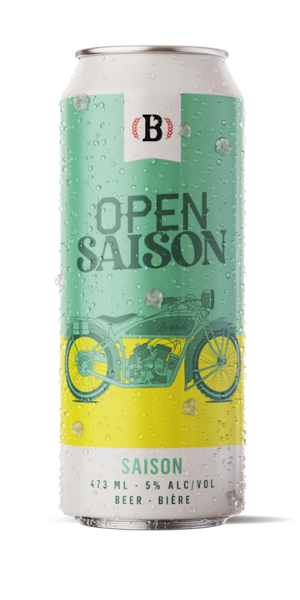 You may also like...