Boscarelli Vino Nobile di Montepulciano (750ml)
Food Pairing

CheesePasta with Tomato SauceRoast meats
The Boscarelli story began in 1962 with founder Egidio Corradi's dream of producing a noble wine that exalts the aromas and flavors of his native land while imparting the elegance he loved. After having left his native home in the Montepulciano region of the Siena countryside, he worked most of his life as an international broker in Northern Italy. Yet, his passion for wine and longing for his home region spurred him to purchase two old farms in the Montepulciano area. The land had long been cultivated in the traditional way with different annual crops and small vineyards. Together with his daughter, Paola, and her husband they started the Boscarelli estate.
The original spirit of the estate has been passed down to the third generation of the family. Each day Luca and Nicolò De Ferrari, sons of Paola and Ippolito, bring that same passion to wine production as they work to infuse each bottle with the aromas and flavors that Grandpa Egidio loved and searched for. Luca and Nicolò reselect and replant vineyards that continue to express the scents and range of characteristics of the incredible land that nurtures them. Such intense attention to cultivation practices and gradual replanting, started in the late '80s, resulted in a total of 22 hectares of vineyards with an average density of 6,000 to 7,000 plants per hectare. Each plant produces about 1 kg of grapes.
Tasting Notes
This is wine is a classic expression of Vino Nobile di Montepulciano and the pride of the Boscarelli wine portfolio. Its composition and aging have remained largely unchanged over the years. Their approach to Vino Nobile remains the creation of an ideal of a wine that combines freshness, elegance, complexity and great aging potential. Lots of cherry and raspberry on the nose, notes of forest floor and light wood spice. Bright and juicy acidity, red fruit, well integrated tannins and a long finish.
Method
Vino Nobile is produced with selected grapes from vineyards at least 10 years of age that are mainly planted on red, sandy and mineral soils to give the wine a great deal of character and aging potential. Grapes used in the vintage are 85% Sangiovese Prugnolo Gentile, with the remainder Colorino, Canaiolo and Mammolo.  The grapes are picked manually and transported in crates. After de-stemming and soft pressing, they are fermented in oak vats filled to no more than two-thirds of their capacity. Indigenous yeast is used in the fermentation process that lasts about a week at controlled temperatures from 28 to 30 degrees. Short manual re-passing of the must and pomace is completed in the initial phase. Pulping continues, where possible, for another 5 to 8 days after fermentation.
This Nobile vintage is aged in Allier or Slavonian oak casks of capacity ranging from 5 to 35 hectoliters, where malolactic fermentation occurs. Maturation takes from 18 to 24 months then a further rest period in bottle before release. 

The aging potential of this Nobile is a few decades, so the optimum maturation period depends on the vintage, from the fifth to the eighth year after harvest is typical.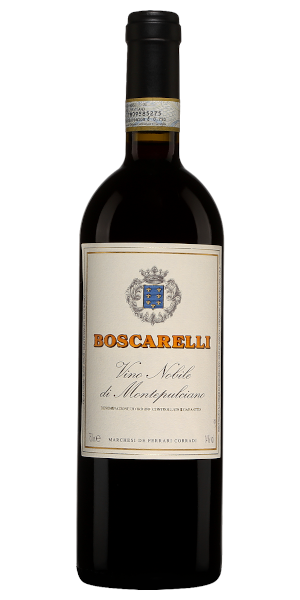 You may also like...