Bouchon Pais Salvaje Blanco (750ml)
Farming Method

OrganicAll of our products that are tagged with the term Organic are either organic certified or organic practicing. Learn More

Food Pairing

Chicken TacosCevicheSushi
Bouchon Family Vineyards' history began with an adventurous young French man's dream almost a century and a half ago. Emile Bouchon left his little home of small winegrowers in Arveyres, near Burdeos, France, to board on a ship, towards Chile in the spring of 1887. Emile came hired as a winemaker adviser and throughout many years of efforts, he was able to purchase an antique wine cellar in Colchagua Valley, turning it into one of the most prominent vineyards of that time. His his children and eventually his grandson would continue his legacy. His grandson Julio studied enology in Bordeaux and expanded the Bouchon project. He fell in love with the granitic soils in the interior dry area in Maule Valley, acquiring Mingre state in 1977, a distant property, which had old dry farming vineyards, besides a cement tanks cellar and simple adobe constructions, some of them from the middle of the XIX century.
Today the winery is operated by the fourth generation of the Bouchon family and a team of expert viticulturalists and winemakers working on continued innovation in the vineyards and winery with the goal of producing delicious wines.
Tasting Notes
Copper yellow in the glass. Fruity aromas stand out, like pear and green apple, with light white pepper notes. The palate is juicy, fresh, with nice minerality and crisp finish. Enjoy with ceviche, sushi, chicken salad.
Method
País Salvaje is made from a unique natural mutation of the Pais grape; white Pais and not the typical red País grape.  This rarity comes from wild vines that grew freely among the wild flora of the Mingre estate in Viña Bouchon, in the dry land area of Maule. These wild vines have never had any human intervention; they grew and climbed among the native species that abound in the ravines and hills. Their grapes represent the purest expression of organic and sustainable growth. The harvest takes place in the last week of April and must be done using ladders, picking bunches up to five meters high.
The soil is ancient granite from the Coastal Mountains, full of quartz and other minerals.  The grapes are harvested in small boxes, using ladders to collect bunches up to 6 meters in the air.  The grapes are pressed in a vertical press and the juice is fermented with native yeasts, without additives, clarification, or filtration.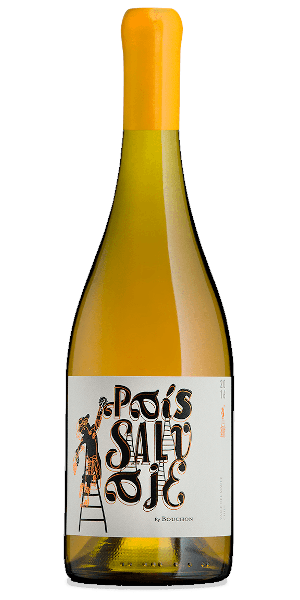 You may also like...