Boxler Gewurtztraminer Réserve (750ml)
Food Pairing

CheesePorkSpicy Foods
Boxler is a small family domaine that farms and crafts their wines according to traditional techniques that have been passed down through the generations. The family has the good fortune of owning vineyards in some of the most prestigious sites in Alsace. According to the American wine importer Kermit Lynch: "Tasting through the entire range of Boxler's wines is ample proof of the fact that Alsace, along with Burgundy, is the source of the world's most complex, exciting white wines, and will probably always be." While Boxler is not certified organic, they have not used fertilizers or herbicides since 2003.
Tasting Notes
Very clear and aromatic on the nose; fresh pineapple aromas and a lovely floral perfume (jasmine) lead to a very elegant and finesse-full palate, with a lingering piquancy and salinity. Round and mineral, this is a medium-dry styled Gewurztraminer with 13.5% alcohol, some 20 grams of residual sugar and lovely marjoram aromas in the aftertaste. Surprisingly good. – Stephan Reinhardt
Method
A rich and concentrated wine made from 40-70 year old Gewurtztaminer vines grown on limestone soil. The grapes are hand harvested and fermented in stainless steel. The wine is bottled unfined.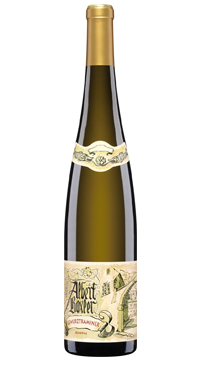 You may also like...