Brasserie de Blaugies – La Moneuse Saison (750ml)
Beer Category

Farmhouse Ale

Tasting Notes

ComplexeffervescentFruity
Marie-Noëlle Pourtois and husband Pierre-Alex Carlier are schoolteachers living in Blaugies who have come up with a formula for great traditional specialty beers, she does the brewing. Their hearty, flavorful, and sometimes exotic styles are all made in their tiny garage brewery. The brewery was first fired up in 1987.
Brasserie de Blaugies uses yeast from Brasserie Dupont, but their beers are generally a bit warmer and fruitier and less hoppy and hard-edged than Dupont's. The brewery is very adventurous in recreating traditional beer styles – and they are some of the nicest people you will ever meet. The beers are very highly regarded among connoisseurs in Belgium. Like many saisons, the beer is lively in carbonation, due to conditioning in the bottle with perhaps a touch too much live yeast. This gives it a little youthful freshness to offset the impression of age and the strong "cellar" aromas.
Tasting Notes
La Moneuse is a classic "saison" beer by virtue of its strength and its earthy, aged quality. It has a hardy, semi-dry malt character – fresh, but not overpowering hoppiness, abundant yeasty, fruity flavors and a fairly strong, but pleasant and enticing mustiness. A complex array of fruits sit on top of a robust amber malt profile. This beer is a warmer, richer, spicier, more vinous, and arguably more approachable saison. Like many saisons, La Moneuse is a little bit over-carbonated, with an aggressive head.
8.0% abv
Method
La Moneuse is named for A.J. Moneuse (b. 1768), a famous local bandit and gang leader, and ancestor of the brewers' family!
Among Belgium's saisons, La Moneuse sits with Saison Dupont on the opposite end of the spectrum from the quirky, thin, fruity varieties. But La Moneuse is quite distinct from the Dupont, which drinks much colder, hoppier, harder-edged, and has no discernible sweetness.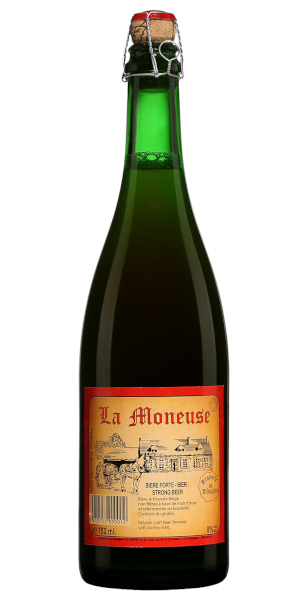 You may also like...