Brasserie de Blaugies x Hill Farmsted – La Vermontoise (750ml)
Beer Category

Farmhouse Ale

Tasting Notes

BitterCitrusherbal
Marie-Noëlle Pourtois and husband Pierre-Alex Carlier are schoolteachers living in Blaugies who have come up with a formula for great traditional specialty beers, she does the brewing. Their hearty, flavorful, and sometimes exotic styles are all made in their tiny garage brewery. The brewery was first fired up in 1987.
Brasserie de Blaugies uses yeast from Brasserie Dupont, but their beers are generally a bit warmer and fruitier and less hoppy and hard-edged than Dupont's. The brewery is very adventurous in recreating traditional beer styles – and they are some of the nicest people you will ever meet. The beers are very highly regarded among connoisseurs in Belgium. Like many saisons, the beer is lively in carbonation, due to conditioning in the bottle with perhaps a touch too much live yeast. This gives it a little youthful freshness to offset the impression of age and the strong "cellar" aromas.
Tasting Notes
Pours a golden straw color with a fluffy, pillowy head. With aromas of fresh cut grass and mountain herbs, vibrant citrus peel, and a touch of funk. The palate has an effervescent prickle on the tongue with flavors of lemongrass and a light earthy bitterness. This rustic saion is both complex and exciting, yet endlessly refreshing and simple.
6.0% abv
Method
Shaun from Hill Farmsted (one of the highest rated breweries in North America) wanted to collaborate with a Belgian farmhouse brewer on a trip to Belgium. He got in touch with the folks at Brasserie de Blaugies, and with the help of a few other friends they created a beer that would join two brewing worlds. Using a base saison brewed with spelt from Blaugies, American Amarillo hops were added, this changes the profile to something a little more herbal and citrus dominated. This beer has since become a classic in the farmhouse beer world.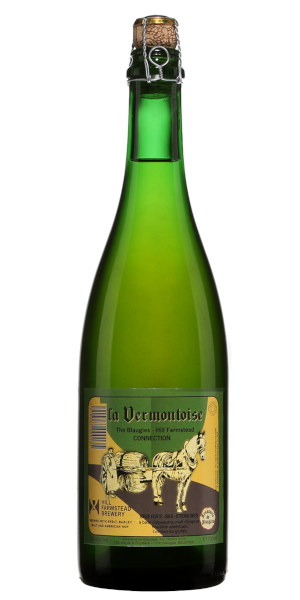 You may also like...