Brasserie de Ranke – Cuvée de Ranke (750ml)
Beer Category

Gold BeerSour Beer

Beer Style

Mixed FermentationFor these beers, fermentation and flavour comes from a mixed culture of yeast and bacteria. Learn More

Tasting Notes

ComplexHoppyTart
Brasserie De Ranke, founded in 1996, brews all of its beers in its own facilities in Dottignies, in the province of Hainaut in Belgium. Through both years of training and dedication, and extremely high ethical, ecological and sustainable standards, they have cemented themselves as one of the best modern breweries to come out of Belgium.
The brewery uses exclusively local raw materials, hops from the region of Poperinge and malt from Belgian malting houses. They also prioritize the happiness of their neighbours and staff above profitability: they don't work nights, or do shift rotations. de Ranke always strives to maintain the best environment possible, so both the neighbours and the staff can be proud on their local brewery, and the beers created here. We'll drink to that!

Tasting Notes
This blended beer sees a complex array of aromatics and flavours brought by several factors; golden malts give notes of warm bread crust and honey, the hops provide subtle spicy and floral components, while the barrel character mixed with the addition of lambic beer add notes of ripe cherries swaddled in a mild Brett horse blanket, tobacco with peach, apricot, pear, charred lemon, and wet slate. The mouthfeel is medium bodied with balancing acidity and a bone dry finish.
Method
The Cuvée De Ranke is roughly a 70/30 blend of a selection of barrel aged beers brewed with top fermenting Rodenbach yeast and aged Giardin lambic. According to the Belgian government, this beer could actually be called "lambic", and, although it isn't an extremely sour beer, it actually contains about 5 times as much authentic lambic as some of the more popular products that call themselves "lambics".
Our Thoughts
Are you a fan of Lambic beer? Sour beer? Funky beer? Well, look no further than this ridiculously good value, barrel blended wild ale from Belgium. Brasserie de Ranke is a brewery that marches to the beat of their own drum; they don't make beers that are quite like anyone else's. Cuvee de Ranke is a blend of funky, tart, and complex Lambic beer and freshly hopped golden ale- mix the two together and you get a beer begging for a charcuterie board, with depth and complexity. Expect notes of lemon rind, fresh hay, barnyard funk, and herbal notes that lead into a bright, acidic, and robust palate.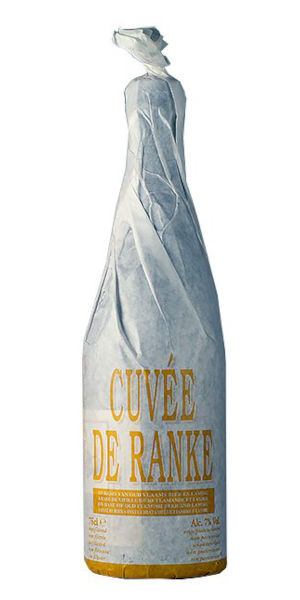 You may also like...