Brasserie de Ranke – Guldenberg Hoppy Belgian Blonde (330ml)
Beer Style

Belgian Golden Strong AleFruity, complex and often on the higher end of the ABV spectrum, yet approachable to many different palates. Learn More

Tasting Notes

CitrusDryrefreshing
Brasserie De Ranke, founded in 1996, brews all of its beers in its own facilities in Dottignies, in the province of Hainaut in Belgium. Through both years of training and dedication, and extremely high ethical, ecological and sustainable standards, they have cemented themselves as one of the best modern breweries to come out of Belgium.
The brewery uses exclusively local raw materials, hops from the region of Poperinge and malt from Belgian malting houses. They also prioritize the happiness of their neighbours and staff above profitability: they don't work nights, or do shift rotations. de Ranke always strives to maintain the best environment possible, so both the neighbours and the staff can be proud on their local brewery, and the beers created here. We'll drink to that!

Tasting Notes
Guldenberg is a strong hoppy blonde ale that claims vaguely to be an "abbey" beer, Guldenberg bears no resemblance whatsoever to any Tripel you may have sampled, except in color perhaps. It is very hoppy and malty (though not quite as assertive as De Ranke's XX Bitter). With strong peppery notes with an earthy backbone. Soft peach and apricot as it warms with a very pleasant subdued bitterness.

Method
Guldenberg is a high-fermenting, balanced bitter beer. The origin of the name comes from the former Guldenberg-abbey in Wevelgem where monks used to make beer. With Brasserie de Ranke not adhering to traditional beer style guidelines with most of their beers, it would be wise to note that while this beer is inspired by Belgian Strong Golden Ales, and Belgian Tripels, it is a more free-form interpretation of the style seeing ample drying hopping with Hallertau Mittelfrüh hops. 
Our Thoughts
It's hard to put a label on a beer like this so let's not bother trying; just sit back and enjoy it. This beer has a bit of everything going on and it all comes together harmoniously: hoppy, malty, yeasty, strong but doesn't drink too boozy and with big carbonation. Ripe peaches, oranges and golden raisins are my main takeaways from the nose and palate.

You're open to some fairly versatile food pairings here, from crab cakes to vindaloo, you can't really go wrong. Or just have it with a second Guldenberg.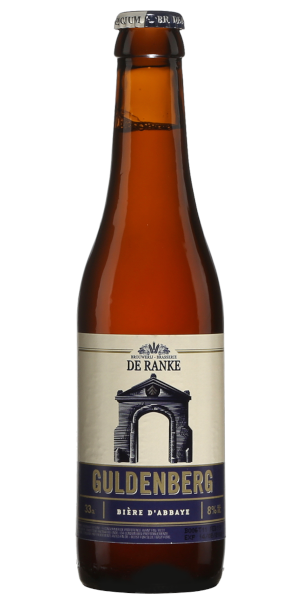 You may also like...