Brasserie de Ranke – Noir de Dottignies Belgian Stout (330ml)
Tasting Notes

ComplexDark ChocolateRoasty
Brasserie De Ranke, founded in 1996, brews all of its beers in its own facilities in Dottignies, in the province of Hainaut in Belgium. Through both years of training and dedication, and extremely high ethical, ecological and sustainable standards, they have cemented themselves as one of the best modern breweries to come out of Belgium.
The brewery uses exclusively local raw materials, hops from the region of Poperinge and malt from Belgian malting houses. They also prioritize the happiness of their neighbours and staff above profitability: they don't work nights, or do shift rotations. de Ranke always strives to maintain the best environment possible, so both the neighbours and the staff can be proud on their local brewery, and the beers created here. We'll drink to that!

Tasting Notes
A very rich taste coming from seven different kinds of malt. Pouring dark brown with notes of milk chocolate, molasses, Christmas cake, brown bread, cafe au lait, cherries, and dried fruit. The palate is concentrated with dark, caramelized malt flavours while still maintaining high drinkability from the effervescent carbonation and scrubbing bitterness. This beer is both elegant and refined while providing ample dark malty flavours.
Method
In classic de Ranke style, Noir de Dottignies features a complex array of 7 different malts to provide a dark colour and an complex array of flavours, while still using whole cone Challenger, and Saaz hops that are known for herbal and spicy qualities. This beer is also bottle conditioned, which adds a finer-knit carbonation and an elegant mouthfeel. 
Our Thoughts
Deceptively light bodied and easy drinking; the combination of seven different malts, Saaz (spicy, herbal) and Challenger (fruity, herbal) hops really come together for an amazing treat. Think sticky date pudding, cherries, dolce de latte and a hint of milk chocolate; it might sound like maybe too much going on but by no means is that the case as everything comes together in a complementary way.

Pick this up if you like stouts, Belgian quads or even if you like fruity beers and are feeling a little adventurous.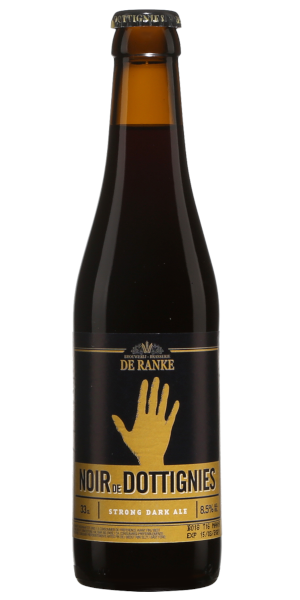 You may also like...