Brasserie de Ranke – Saison de Dottignies (375ml)
Beer Category

Farmhouse Ale

Tasting Notes

BittereffervescentFruity
Brasserie De Ranke, founded in 1996, brews all of its beers in its own facilities in Dottignies, in the province of Hainaut in Belgium. Through both years of training and dedication, and extremely high ethical, ecological and sustainable standards, they have cemented themselves as one of the best modern breweries to come out of Belgium.
The brewery uses exclusively local raw materials, hops from the region of Poperinge and malt from Belgian malting houses. They also prioritize the happiness of their neighbours and staff above profitability: they don't work nights, or do shift rotations. de Ranke always strives to maintain the best environment possible, so both the neighbours and the staff can be proud on their local brewery, and the beers created here. We'll drink to that!

Tasting Notes
Spicy hops up front with a touch of honey and bread. High fruity esters of lemon and citrus with a slight lemongrass and grapefruit pith. Wet hay funk and herbal hops follow with a bit of bready malt. The palate has big sweetness up front with a honey note and lime. Transitions into a bitter, spicy note that extends all the way into the finish. Big American hops flavor of grapefruit and other citrus. Orange and wet hay "farmhouse" character. Bitterness lingers beyond the finish. Dry and nice carbonation.
5.5% abv
Method
The flagship, year round Saison from de Ranke. Saison de Dottignies is brewed with Challenger, Brewers Gold, Hallertau Mittelfrüh, Styrian Golding hops to create a complex array of spicy, herbal, and floral aromas and is bittered to 45 IBU. High for most European style beers, but average for Saison.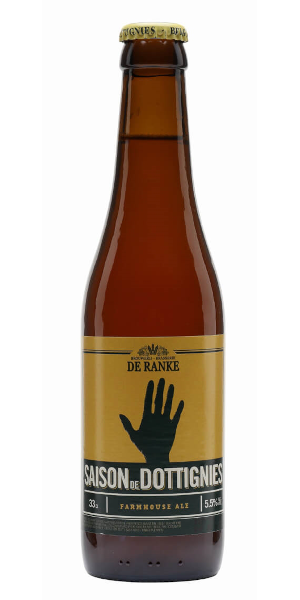 You may also like...