Brasserie Dunham X Twin Sails – Le Quenche du Soif (750ml)
Located in the small country town of Dunham, Quebec, about thirty minutes from the Vermont border, is Brasserie Dunham. Brewmaster Eloi Deit, formerly of Quebec's famous Le Cheval Blanc, took over the struggling little brewpub as a temporary moonlighting gig. Before he knew it, he had cleaned house, ditched the recipes, and when the sun came up, he had created something truly special.
These days, Brasserie Dunham is known for a wide variety of beers, but especially their saisons and barrel aged beers. Surrounded by fruit farmers, honey producers, cideries, and wineries, Eloi's geography is not unlike Hill Farmstead, and the effect it has on his mindset as a brewer is similarly nuanced. Beautiful, fluffy, balanced beers that are bright and full of flavor.
Tasting Notes
Pours a light off-peach with a big pillowy head. Nose is zippy, peach, pineapple, yuzu. Taste is guava, passionfruit, a little zesty, slightly floral. Wild, tangy, effervescent. Great mouthfeel. Slightly biscuity finish with a herbaceous bitterness. Ridiculously drinkable. Does not taste like a 7% beer at all.
Method
Le Quench du Soif is a collaboration between Québecois brewery Brasserie Dunham and BCs own Twin Sails Brewing. The beer is a wild IPA brewed with Citra and Galaxy hops for a funky yet fruity flavour. Wild ales are generally brewed with "wild" yeast or bacteria, such as Brettanomyces, Pediococcus or Lactobacillus. The addition of the yeast lends these beers a slight tartness and funky aroma.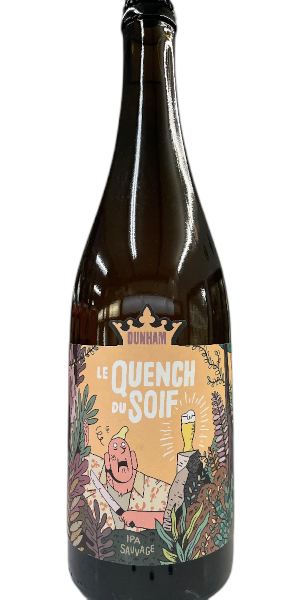 You may also like...